94. I.D.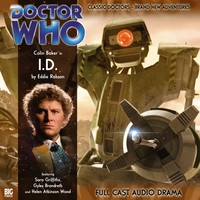 Released April 2007


Prices
CD
US $7.70
Download
US $2.99

Web Special Price!



Behind the Scenes
Chronological Placement
This story takes place between the television adventures, The Trial of a Time Lord and Time and the Rani and after the Big Finish audio adventure.
Production Notes
Sara Griffiths previously appeared in Doctor Who on television with Seventh Doctor, Sylvester McCoy. She played Welsh accented Ray in Delta and the Bannermen.
Gyles Brandreth, who plays Doctor Marriott in I.D. has had an interesting and varied career. He has authored several books, worked as a television script-writer, served as an MP and can be regularly be heard on Radio 4 on such shows as Just a Minute and his own The Brandreth Rules.
Helen Atkinson Wood is well known for her comedy roles on radio and television including appearances in The Young Ones, KYTV and Blackadder in which she played Mrs Miggins.