2.03. Sherlock Holmes: The Hound of the Baskervilles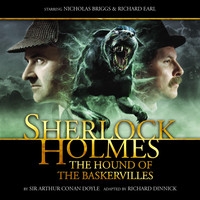 Released December 2011


Prices
CD
US $7.90
Download
US $4.99

Web Special Price!


Synopsis
"Nicholas Briggs and Richard Earl, a formidable, intelligent duo, who make the most of their characters. Watson is especially important in the Big Finish productions, as his narration underpins the story to a greater extent than I can recall in any other such audio drama, and Richard Earl is fully equal to the task. This production of The Hound is nail-bitingly exciting, as it should be..." -
The Sherlock Holmes Journal
"If you are looking for an adaptation to enhance your enjoyment of the original Sherlock Holmes story, or perhaps just a well-made, mystery audio drama, you will certainly want to pick up a copy of The Hound of the Baskervilles!" - Audio Theatre Central
Young Dr Mortimer ventures from Devonshire to Baker Street, with news of the death of his friend, Sir Charles Baskerville. Can it really be that the grisly legend of the Hound of the Baskervilles might have something to do with the case? Holmes will have none of it, but even he must accept that dark forces are at work. Dark forces that it seems Dr Watson must face alone...
Written By: Sir Arthur Conan-Doyle, adapted by Richard Dinnick
Directed By: Nicholas Briggs & Ken Bentley
Cast
Nicholas Briggs (Sherlock Holmes), Richard Earl (Dr Watson), Samuel Clemens (Sir Henry Baskerville), John Banks (Dr Mortimer/ Mr John Barrymore/ Selden/ Postmaster/ Lestrade), Barnaby Edwards (Mr Jack Stapleton), Charlie Norfolk (Miss Beryl Stapleton/ Mrs Eliza Barrymore/ Laura Lyons)