2.02. Sherlock Holmes: The Reification of Hans Gerber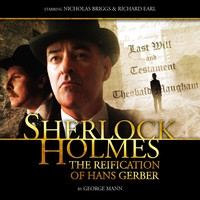 Released November 2011


Prices
CD
US $7.72
Download
US $4.99

Web Special Price!


Behind the Scenes
Extract from the Sherlock Holmes Series 2 press release...
While Sherlock Holmes actor, Nicholas Briggs, may be best known for his Doctor Who work – including being the voice of the Daleks and the Cybermen on TV – one of his great passions is Great Detective himself. "Sherlock Holmes is something I've always loved; it's as much a part of our popular culture as Doctor Who has now become – except of course it's been around a lot longer," says Briggs. "He's a very single-minded character and that's the kind of character I love to play: people who are fixated…and maybe slightly strange," he laughs.

The Guy Ritchie movies and Steven Moffat's TV series both offer their own brilliantly 're-imagined' versions of Sherlock Holmes but Big Finish Productions promise to stay true to the source material.

"I wanted them to really be in the Conan Doyle style," explains Briggs. The approach by Briggs and co is perhaps best exemplified with The Hound of the Baskervilles, which is being faithfully adapted for the very first time. "People always feel the need to embellish on it, quite outrageously. The original is brilliant. There's no need to add a séance; there's no need to add a scene where a man gets sucked down into a mire. It's perfect as it is."

The series begins with adaptations of The Final Problem and The Empty House before embarking upon a brand new case for the super sleuth, written in the style of Conan Doyle.

"The Reification of Hans Gerber is written by George Mann," continues Briggs. '"He writes a lot of Victorian-style 'steam punk' stuff…and he's very keen on Holmes and has written other Holmes pastiche stories. It has all the hallmarks of a Holmesian mystery – there's all sorts of dark family secrets that he has to unearth. But who's the murderer? And… I can't tell you any more…!"

Another story not written by Conan Doyle is The Tangled Skein, based on the acclaimed book by David Stuart Davies, in which Sherlock Holmes encounters Dracula.

"I wanted every episode of this new series to have real selling points," says Briggs. "You can say, 'This is where Sherlock Holmes dies…', 'This is a brand new Sherlock Holmes story…', 'This is where Sherlock Holmes meets Dracula…' and, of course, we're doing the most famous Sherlock Holmes story, The Hound of the Baskervilles, which kind of speaks for itself."

The series begins with The Final Problem & The Empty House, released in October 2011, starring Nicholas Briggs (Doctor Who, Torchwood, Adulthood,4321) as Sherlock Holmes and Richard Earl as Dr Watson with Alan Cox (Watson in Young Sherlock, The Young Indiana Jones Chronicles, John Adams) as Professor Moriarty. Sound design is by Sony-Award-winning radio producer Martin Montague, with music by Jamie Robertson.
CHRONOLOGICAL PLACEMENT:

That's for you to investigate!