182. Antidote to Oblivion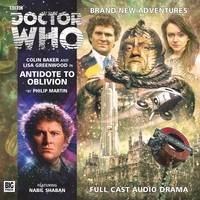 Released January 2014


Prices
| | |
| --- | --- |
| CD | US $19.95 |
| Download | US $12.99 |


Behind the Scenes
(Excerpt from Vortex issue #59, click here to DOWNLOAD)
Antidotally Speaking
It's a new year, it must be the start of a new trilogy of tales for Sixth Doctor Colin Baker! Paul Spragg asked him how things were shaping up for Sixie and Flip this time out
Welcome back, Colin. And you've brought Flip (Lisa Greenwood) along for the ride too!
I love Flip! She's such a little cracker. She's a little streetwise urchin, heart of gold, brain of an ant that gets bigger as the stories progress, and she's just such a lovely character and my Doctor's quite fond of her.
She gives him quite a runaround in these.
Yeah. The Doctor is having a little journey of his own so he takes his eye off the ball a bit with Flip, I think.
There's definitely a bit of a sense of him being distracted by unfinished business.
Exactly. Exactly. I'll leave those who are hearing the trilogy to come to their own conclusions but it's very interesting.
How's Lisa been?
Oh, she's great. She's a natural. She does what she does and she does it extremely well. She's just a great, confident, talented little girl – little girl? Don't patronize her, Colin, she's in her twenties!
She is tiny though.
She's tiny and as pretty as a picture and my daughter was in the other day, my twenty-one-year-old daughter, and they got on like a house on fire, which was lovely.
The first story in this trilogy, Antidote to Oblivion, brings back Sil (Nabil Shaban), under the aegis of his original creator, Philip Martin.
Good old Sil has returned and working with Nabil again; well, Nabil is always great. You know what the goods are and he delivers them in spades. That wonderful lubricious chuntering of glee, and [Sil]'s got even more callous and self-interested than he was in the two I did with him on television, and he's a great character. I love it when he turns up. All he's interested in is making a profit, to hell with everything else.
If anything, he's a character who seems more in tune with our times now than he did even back in the Eighties.
Yes, Sil would do very well in certain international corporations. For all that they talk about caring for the customer, I think the shareholder comes first.
Did you get the feeling that Antidote was quite a gruesome story in places?
It's not something that struck me, I must confess. I suppose [there's] the mere fact of having Sil in it and it's written by Philip Martin, and Philip Martin is the author of Gangsters, that wonderful violent series that I loved in the Seventies. Philip Martin does not shy away from man's physical inhumanity to man, so I suppose yes, that is true. I don't have that objective view; I just dive into a story and do 'what if I was the Doctor doing that'? So yes, you might well be right but I must confess I hadn't noticed it.
What do you make of Sil himself these days?
He's amoral. But he's not 'bad'. Well, I suppose he is bad, really. But his prime motivation is Sil. I don't think… actually, he might go out and torture people for the fun of it! Perhaps I'm being too kind to him. It's because he's entertaining that we forgive him some of his worst excesses. It's because he's funny. Funny and nasty is a winning combination.
It also brings back memories of that whole Trial season where the Doctor is confused because he was shown things which purported to be him from the Matrix, but of course he had no memory of it, and he had been affected by Crozier's mind probe, so he's not sure whether any of his memories are genuine. Therefore it is very confusing.