Sherlock Holmes: The Adventure of the Perfidious Mariner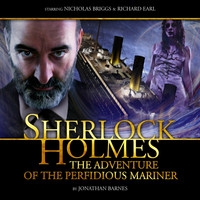 Released April 2012


Prices
Download
US $2.99

Web Special Price!


Synopsis
'A delicious little murder mystery that ends on a fantastic cliffhanger, that I hope will be grabbed by both horns and lead us into the next series of Holmes mysteries, which quite frankly, can't arrive soon enough. The game is most definitely afoot…' - Tim, MassMovement
It is the long, oppressive summer of 1912. Four months ago the RMS Titanic was lost to the Atlantic. In Europe the drumbeats of war grow louder.

These things have yet to touch Mr Sherlock Holmes who, estranged from Dr Watson, lives in reclusive retirement on the South Downs. The world's foremost criminal investigator has turned his back on the past, hiding from the world and thinking himself immune to its excesses. Yet he is about to be faced by an old friend, to encounter the most hated man in England and to grapple with the painful implications of the Titanic disaster. More troubling still, he will be forced to try to solve a new and unexpected mystery – one of the most diabolical and fiendish murders with which he has ever been confronted…
THIS TITLE IS NOW OUT OF STOCK ON CD.
Written By: Jonathan Barnes
Directed By: Nicholas Briggs and Martin Montague
Cast
Nicholas Briggs (Sherlock Holmes), Richard Earl (Dr Watson), Michael Maloney (J Bruce Ismay) Tracey Childs (Mrs Curbishly/Martha), Toby Longworth (Station Master/Senator/Inspector)