The Prisoner #1 Comic (Big Finish Limited Edition Cover)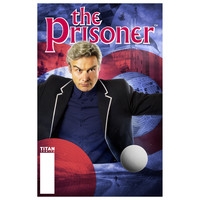 Released April

Synopsis
The cult TV series comes to life in a brand new comic series by writer Peter Milligan and artist Colin Lorimer. Timed to coincide with the 50th anniversary of the first US transmission, this new four-issue series from Titan transports readers back to the mysterious village where everybody is a number and no one is free.
In collaboration with Titan Comics, this is an exclusive Big Finish variant of Issue #1 the comic, featuring Mark Elstob the Number Six.
Based on the classic ITV series.
See here for a special pre-order bundle (available until the end of September 2018, or while stocks last), where customers will get a free copy of Titan's The Prisoner comic, with exclusive, special cover art featuring Mark Elstob as Number Six, as part of a purchase of the brand new Big Finish Production The Prisoner Volume 3 on CD.
Written By: Peter Milligan