The Revenants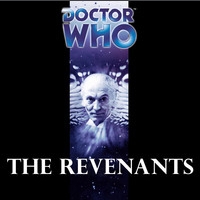 Released May 2012
Behind the Scenes
Episode List
1. The Marsh-Wains
2. The Wissfornjarl
Making The Revenants
Producer David Richardson on the background of the story
How did The Revenants come about?
Big Finish has made special stories to be given away with Doctor Who Magazine before - most recently a couple of Companion Chronicles: The Mists of Time (starring Katy Manning) and Freakshow (starring Mark Strickson). Both are now available to buy in our Companion Chronicles Box Set. When it came to planning another, I felt it'd be nice to go right back to the roots of Doctor Who, and have William Russell telling a story of Ian Chesterton's travels in the TARDIS.
Can you talk a bit about the development of the story?
Originally Ian Potter had been asked to write a tale that was a bit Quatermass-y, with the Doctor and his friends arriving in a New Town in the 1950s. Actually, during development i realized this would be more suited as a script for Counter-Measures, our spin-off series about the guest characters from Remembrance of the Daleks (Gilmore, Dr Jensen and Allison Williams). So Ian ended up with two commissions! But Ian did carry over one aspect of his original script - the idea that Ian and Barbara arrive on Earth, in a time so near and yet so far from their own.
What do you remember of the recording?
It's always a happy day when you work with William Russell. He is such a gentleman and excellent company, and a fantastic story teller both as himself and as Ian. We were so lucky to have Sharon Small - star of Downton Abbey, The Inspector Lynley Mysteries and Mistresses - as our guest star. I know director Lisa Bowerman spent some time finding the right person, and Sharon was brilliant.