1.2. The Tenth Doctor Adventures: Time Reaver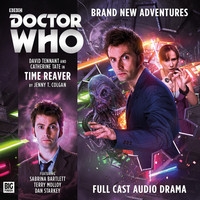 Released May


Prices
| | |
| --- | --- |
| CD | US $14.52 |
| Download | US $8.99 |

Synopsis
This title was released in May 2016. It will be exclusively available to buy from the BF website until 31st August 2016, and on general sale after this date.
'Time Reaver is an absolutely great story, filled with darkness and sci-fi, humour and scones. I have to commend every single person involved for creating such a multi-layered and enjoyable tale. Jenny T Colgan is definitely proving herself to be one of the greatest writers that Doctor Who has in its arsenal at the moment.' - Gallifrey Archive
'Time Reaver is a departure in being set at a futuristic space port planet albeit with a distinctly Pirates of the Caribbean atmosphere. For the most-part this story is a swashbuckling romp and as such Howard Carter's music scoring which clearly seeks to imitate the Murray Gold TV scores really comes into its own here' - Doctor Who News
1.2 Time Reaver
Calibris. The spaceport planet where anything goes. Where anyone who doesn't want to be found can be lost, and where everything has its price. Where betentacled gangster Gully holds sway at the smugglers' tavern, Vagabond's Reach.
The alien Vacintians are trying to impose some order on the chaos. Soon the Doctor and Donna discover why. An illegal weapon is loose on the streets. A weapon that destroys lives… Slowly and agonisingly.
The Time Reaver.
Written By: Jenny T Colgan
Directed By: Nicholas Briggs
Cast
David Tennant (The Doctor), Catherine Tate (Donna Noble), Alex Lowe (Soren), Sabrina Bartlett (Cora), Terry Molloy (Rone), John Banks (Gully), Dan Starkey (Dorn)
Other roles played by the cast