212. Vampire of the Mind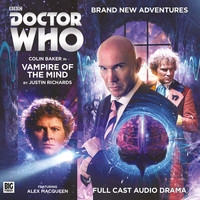 Released May 2016


Prices
| | |
| --- | --- |
| CD | US $19.33 |
| Download | US $12.99 |


Behind the Scenes
Writer's Notes
Aside from a short story, I think Vampire of the Mind was the first time I've written for the Master. But he's a character we know so well – in all his incarnations – that he's easy to get to grips with. Even in this story, where his incarnation is a little out of the ordinary…
The brief I was given by Alan Barnes was fairly broad. The main thing I needed to include was something from the Master and the Doctor's past. I don't think Alan stipulated what sort of thing it had to be – just something that would ultimately act as a clue to the Doctor as to what was going on, and which implied the Master had been planning things for a while. Or at least, had picked up on some plan or scheme he never brought to fruition in the past. Rather than a character or a device or returning alien menace, I decided on a place.
The question then was, what place? Where was important to the Master and was somewhere that he might have had the time and a good reason to set in motion the sorts of things I wanted to tell a story about? The answer, when I thought of it, seemed fairly obvious in hindsight. Hopefully it makes as much sense to the audience as it did to me.
And so on with the story. Given the Master's expertise at hypnosis, I wanted a plot that enabled him to play mind games with the Doctor and other characters. That gave me an idea for the alien threat the Master is using, which in turn meant that I had enough of the bits and pieces of the story to flesh it out in detail. It was – like all Big Finish scripts – great fun to write. I hope it's as much fun to listen to!
Justin Richards, 2016
Twitter: @JJCRichards