We love StoriesBig Finish produce great full-cast audio drama for CD and download, featuring many popular television fantasy series.
Dark Shadows - The Soundtrack
9 October 2015
To celebrate the upcoming release of our 50th Dark Shadows Audiobook we're pleased to be releasing 90 minutes of original music from the series - as well as an interview with producer Joseph Lidster.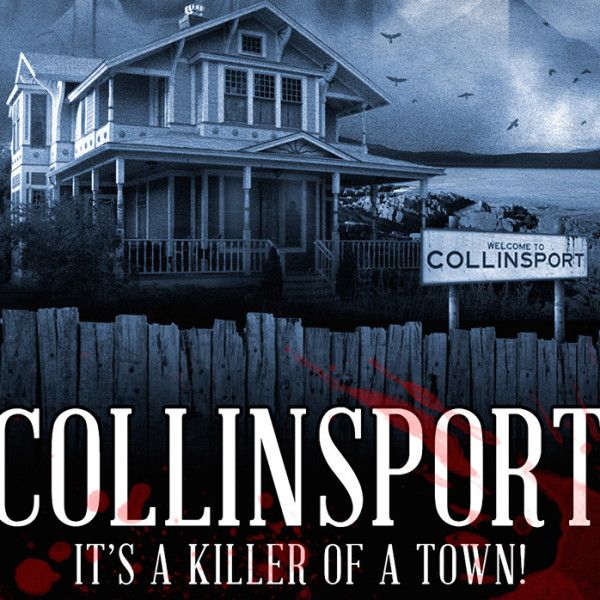 Just in time for Halloween, Big Finish is delighted to be releasing Dark Shadows: And Red All Over, our 50th Dark Shadows audiobook release. Our audio adventures in the world of Collinsport have been running since 2006, with a mix of full-cast stories, dramatic readings and even soundtrack releases.
To celebrate the release, we've decided to revisit some of our works so far with a special new music suite - available to listen to and download from SoundCloud today or via the player below.
Dark Shadows producer Joseph Lidster has also kindly agreed to be interviewed by our crack Big Finish news team. Discover his thoughts on the world of Dark Shadows, and what we can expect from the new release.
For those who haven't heard Dark Shadows before – can you explain it to us?
JL: Dark Shadows was an American television series that ran from 1966 to 1971. It was basically a soap opera with a gothic atmosphere into which they started to bring supernatural elements. The biggest of these was Barnabas the vampire (Jonathan Frid in the original series, now portrayed by Andrew Collins in the audios). Like the Daleks for Doctor Who, Barnabas turned the show into a huge hit. It really was the equivalent of Dalekmania – you can see just how huge it was here. After the introduction of Barnabas, the series became more like Doctor Who or Sapphire & Steel. They started to travel back in time to visit previous generations of the Collins family. There were werewolves, ghosts and other creatures. They even visited Parallel Time – where all the actors played alternate versions of their characters for a few months. It really was one of the most imaginative and wonderful shows ever created and you can clearly see how it had a huge influence on a number of films and television series (the most recent I can think of being American Horror Story which has a number of pretty blatant references to Dark Shadows).
Dark Shadows: And Red All Over is our 50th Dark Shadows audio book release. Did you ever think the range would last this long?
JL: Not really! What I tried to do when I came on board was to open it up so it would be accessible to new listeners. The first story I co-produced was Dark Shadows: The Blind Painter, the fifteenth audio book release. Our writer Jonathan Morris had never seen the show and, instead of having two actors from the series, we had only had Roger Davis from Dark Shadows while co-star Nicola Bryant was more known for her Doctor Who work. Jonathan wrote his story, I made it fit into Dark Shadows and I think we ended up with something that's absolutely part of the series but also absolutely something you can listen to if you've never even heard the words 'Dark Shadows' before. Over the years we've evolved and pushed the range – including more story arcs and serial elements but always staying true to my belief that each story should absolutely work as a standalone drama. We've used new writers and new actors to keep it fresh and I really think we've done some great things! I say 'we' - I just get the writers and actors and they do the work!
When did you first become a Dark Shadows fan? Who is you favourite character and what's your favourite story-arc from the original series?
JL: It was through Stuart Manning, who used to produce the range and still works for Big Finish producing stunning covers for the Confessions of Dorian Gray range. I asked him to show me some of the series because I was enjoying the audios and I was hooked. I think my favourite story arc is 1897 because there's just so much madness there – I just wrote a blog post about it here. And I really don't think I could choose a favourite character. Genuinely they're either brilliant or they get killed off very quickly. So if it's a character who appears in more than five episodes then they're going to be fascinating.
What stories will fans need to have heard to enjoy Dark Shadows: And Red All Over?
JL: I don't think you'll need to have heard any previous stories. Both characters are from the TV series but they haven't seen each other in years. The preview is the opening of the story so you can hear how it starts. Basically, a woman on her honeymoon wakes up in a strange house and meets the man who lives there. A man who used to be her friend but who died a number of years before in an aeroplane crash. Simples!
What has been your favourite moment from recording the plays?
JL: I've so many. I get such a buzz from seeing the finished cover and trailer go up. I've loved working with first time writers and seeing what stories they have to tell. I've loved developing the story arcs and serial elements. I've adored working with my co-producer David Darlington. We've been friends for years but hadn't properly worked together but I think over the last couple of years we've just really clicked. We make a good team! I think my favourite moments overall have to be the recording days. We're a little bit more guerrilla than some of the BF ranges. We don't have two days in the studio with the same cast and a nice lunch. We have three or four days in a studio with however many people coming in and out when we can get them in – and lunch is sandwiches from the local supermarket and a pint or two afterwards. But it's brilliant, watching younger, newer actors coming in and just throwing themselves into it and having a blast. The only problem we have is that every actor we've employed wants to come back!
Dark Shadows: Beyond the Grave is on special offer this month for just £2.99 as part of our Listeners promotion. What are your memories behind the production of this story?
JL: It was exhausting! The script was hard to get right (but writer Aaron Lamont got it so right) because it was so complex. It had to stay true to the fiction (that this was found footage) but it also had to be funny and dramatic and terrifying. It's got a huge cast, none of who recorded together. Everyone recorded their bits at different sessions on different continents so trying to keep across all that was a huge challenge. But mostly I remember having fun. Dark Shadows is such hard work but such fun and I think that really shows in the performances. I think it's not just one of the best things we've done, I think it's what one of the best thing Big Finish have done. Seriously, even if you don't intend to buy any other Dark Shadows story, it's one people should get. Especially for £2.99!
Dark Shadows: And Red All Over is the last in our current series of audiobooks, but next year Dark Shadows celebrates its 50th anniversary. Any plans for an anniversary adventure?
JL: We definitely have plans... but we're not talking about them just yet! Stay tuned...
Dark Shadows: And Red All Over will be released later this month. You can pre-order your copy today, with a subscription to our 2015 run of stories also available. You can check out our entire range of Dark Shadows Audiobooks on the Big Finish website today. Check out a preview clip from the story below!
Special bundles collecting together favourite story arcs from the series are also available – follow the link for more details!