We love StoriesBig Finish produce great full-cast audio drama for CD and download, featuring many popular television fantasy series.
12 Days of Big Finishmas #5 - the Doctor is Landbound
29 December 2017
Short Trips: Landbound, our final Doctor Who release of 2017, is available now. Download for free!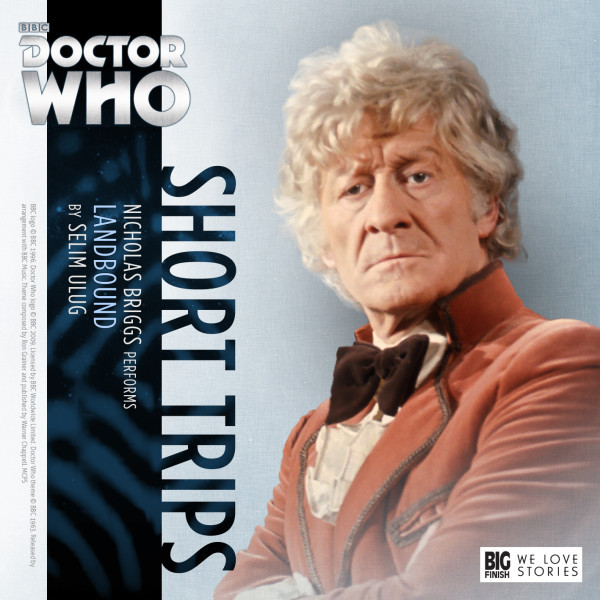 The winner of our annual Paul Spragg Short Trips Memorial Opportunity, Landbound, is released today. In this story by Selim Ulug, the Third Doctor finds himself reflecting on his new life in exile.
He was the captain of a ship once. Since being stripped of his authority, he is lost. Landbound. Then he meets a kindred spirit, a man who has also lost something.
In a small seaside town, both Ronald Henderson and the Doctor want to move forward, but one of them must first come to terms with his past...
Producer, Ian Atkins tells us more about this special release: "You leave a recording studio with only half a sense of how something's going to turn out, but listening to Neil Gardner's edit on this has been hugely rewarding. Nicholas Briggs's reading captures the poignancy, frustration and sympathy between two prisoners of their situations, and the final production offers this up for the listener to be an intimate part of. It's the Short Trips format at its best, and brings a close to a year I've hugely enjoyed putting together."
You can download this tale for free here.
We also have a Fourth Doctor tale on special offer for you to enjoy with Tom Baker and Lalla Ward reunited in the Big Finish Fourth Doctor Adventure, Wave of Destruction.
A modulated frequency wave cancellation signal isn't something that the Doctor and Romana expect to detect in 1960s London. But then they don't expect to find Professor Lanchester, the man who invented it, lying unconscious. Or MI5 investigating.
With the help of MI5 Agent Miller, Lanchester's daughter Jill, and his nephew a pirate radio DJ called Mark, the Doctor, Romana and K-9 investigate. They soon discover that there is more at risk than they imagined, and an alien invasion is about to begin.
Can the Doctor identify and defeat the aliens in time? Will Romana manage to find a recombinant transducer before it's too late? And how will K-9 cope with his new job?
This Fourth Doctor tale is now available at £2.99. Head to page https://www.bigfinish.com/offers/v/bigfinishmas17 and enter code PLUMPUDDING to access all our special offers.
And keep an eye on the Big Finish website and our social media, as we'll be adding more special offers every day for the 12 days of Big Finishmas.