For The Love Of StoriesBig Finish produce fantastic full-cast audio dramas for CD and download.
1 September 2023
Every day a different deal! Check this page for updates on the goodies up for grabs!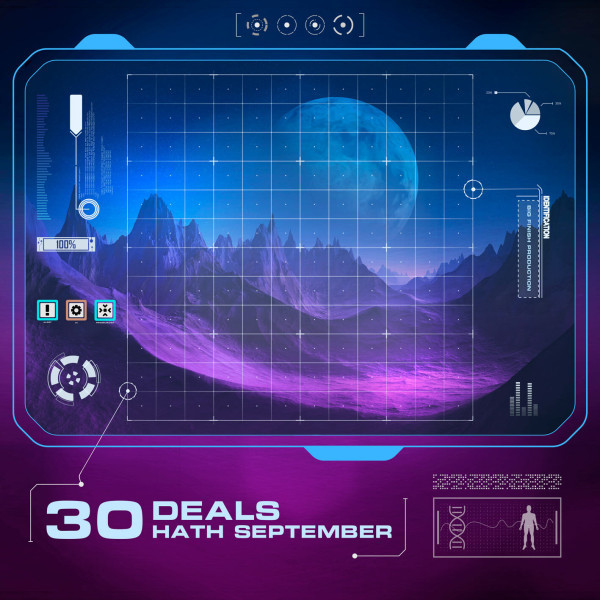 [Last updated 19 September 2023]
Grab a bargain in the Big Finish autumn extravaganza. We'll be adding a new offer every day from 01 September 2023 until 30 September 2023! The deal on day 1 is just £1, day 2 is £2 and so on until the end of the month.
Newsletter subscribers will receive early bird notifications of the stories on offer each day, so if you're not signed up already, click HERE to join the mailing list now!
Use code AUTUMN to access the offers!
Check back at this page for daily updates on the offers! Offer ends 23:59 (UK time) on 01 October 2023. New deals will remain on the offer page until the end of the promotion.
Friday 01 September
◉ For £1 - Sylvester McCoy and Sophie Aldred star in Steve Lyons' 2001 Doctor Who monthly adventure, Colditz, which featured among its cast a then-unknown young Scottish actor by the name of David Tennant.
Saturday 02 September
◉ For £2 - Colin Baker stars in the Dark Shadows story, The House by the Sea by James Goss.
Sunday 03 September
◉ For £3 - Katy Manning stars as Iris Wildthyme in The Devil in Ms Wildthyme by Stephen Cole.
Monday 04 September
◉ For £4 - get Simon Guerrier's Doctor Who - The Companion Chronicles story, The Anachronauts, featuring Peter Purves and Jean Marsh.
Tuesday 05 September
◉ For £5 - grab the classic adaptation of HG Wells's The Invisible Man with a terrific cast, including John Hurt and Annette Badland, for just £5.
Wednesday 06 September
◉ For £6 - Trevor Cooper reads Mike Tucker's six-hour audiobook, Star Cops: Sins of the Father.
Thursday 07 September
◉ For £7 - three stories performed by Paul Darrow, Sally Knyvette, Jacqueline Pearce, Gareth Thomas and Louise Jameson, in Blake's 7 - The Liberator Chronicles Volume 5.
Friday 08 September
◉ For £8 - two dramatic readings featuring Wendy Padbury, Frazer Hines and Jean Marsh, in Doctor Who - The Lost Stories: The Second Doctor Box Set.
Saturday 09 September
◉ For £9 - The Worlds of Big Finish brings together a whole host of different Big Finish characters in an audio extravaganza.
Sunday 10 September
◉ For £10 - Peter Davison stars in Time Apart, four separate audio adventures from the Doctor Who - The Monthly Adventures range.
Monday 11 September
◉ For £11 - Bernice Summerfield: The Story So Far, three full-cast audio adventures starring Lisa Bowerman.
Tuesday 12 September
◉ For £12 - Alex Kingston and Warren Brown take the lead in a tense psychological drama, Transference, from the Big Finish Originals range.
Wednesday 13 September
◉ For £13 - John Barrowman, Eve Myles, Burn Gorman, Gareth David-Lloyd and Naoko Mori star in the three-part special adventure, Torchwood: Believe.
Thursday 14 September
◉ For £14 - Linda Thorson returns to the worlds of The Avengers in a full-cast audio drama starring Julian Wadham, Emily Woodward and Christopher Benjamin: The Comic Strip Adaptations Volume Five.
Friday 15 September
◉ For £15 - Carolyn Seymour and Lucy Fleming star in the post-apocalyptic audio drama, Survivors: New Dawn 1.
Saturday 16 September
◉ For £16 - the game's afoot for Sherlock Holmes in The Seamstress of Peckham Rye, winner of the Audie award for best drama in 2022.
Sunday 17 September
◉ For £17 - Paul McGann is marooned in London, 2020. Get the first volume of Doctor Who - The Eighth Doctor Adventures: Stranded.
Monday 18 September
◉ For £18 - The War Master: Killing Time, a four-part adventure starring Sir Derek Jacobi, Alexandria Riley, Katy Manning and Sarah Sutton.
Tuesday 19 September
◉ For £19 - Kate Lethbridge-Stewart (Jemma Redgrave) and Petronella Osgood (Ingrid Oliver) let the science lead in UNIT - Nemesis: Between Two Worlds