For The Love Of StoriesBig Finish produce fantastic full-cast audio dramas for CD and download.
A Roster of New Torchwood Talent
15 September 2022
Three new names have recently joined the Big Finish Productions team and made their mark with terrific Torchwood adventures! Meet them below...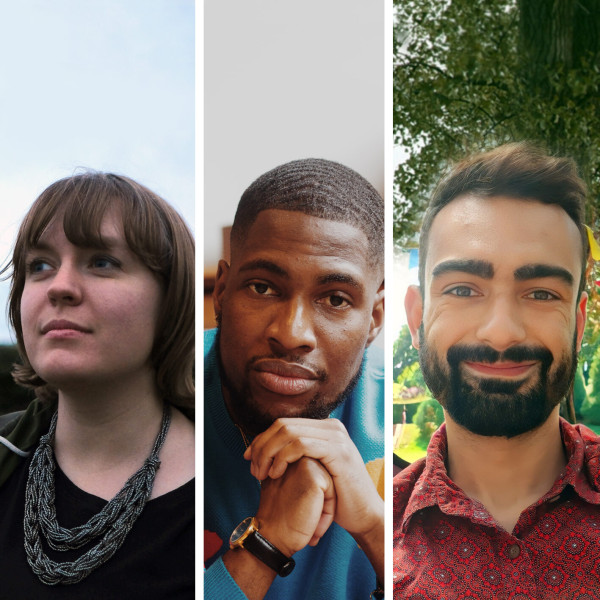 Maddie Wilson, writer of the Ianto Jones character-piece Torchwood: Restricted Items Archive Entries 031-049, said: "It's great to be part of a creative process with people who love the same stories and characters that I do. Everyone at Big Finish does what they do because the idea of telling stories and connecting with people matters to them, and it's so rewarding to be a part of that.
"Working with Big Finish is like all of the best bits of playing made-up games in the playground at school. You get to take your favourite characters and whatever else you're interested in,and mash them together to come up with the coolest, funniest and wildest ideas you can think of. But then those ideas actually get recorded and shared with people all over the world. So actually, it's like if professional actors arrived in the playground to perform the adventure you and your friends had made up during your lunch break. Pretty amazing.
"I was a teenager when Torchwood was first on TV and I loved it immediately. Writing for Torchwood has been a bit like having a conversation with my teenage self, remembering what first excited me about it and using that to work out what stories I might want to tell now.
"It's a great world to play in because anything is possible; aliens, time travel, people coming back to life, but there are also rules you can use to help keep the story in shape. You know that the people who are going to listen to the story are already invested in that world, and so they're going to bring their knowledge and their joy to the experience too. There's a ready-made connection between us all."
Writer of the chilling full-cast audio drama Torchwood: Suckers, Alexander Stewart, said: "My experience working with Big Finish has been a delight. Aged eleven I bought The Sirens of Time, so it's been exciting for me from beginning to end. I don't think my eleven-year-old self would believe he'd get to write an audio for Big Finish!
"The people at Big Finish are what makes this job so good, from developing the script with drama geniuses James Goss and Lauren Mooney to witnessing our extraordinary cast bring it to life with our brilliant director (and Bernice Summerfield!) Lisa Bowerman.
"I've never written for audio before but James and Lauren were so full of patience, insight, and advice that it didn't feel like work but instead like being developed as a writer. So, it was a joy to write this... even though the episode finds Tosh in quite a bleak place.
"To actually get to write a Torchwood adventure with the Naoko Mori and see it being recorded was more than just a 'pinch me' moment. I went to university in Cardiff in the late Noughties and would desperately adjust my Freeview aerial every week out of the student flat window just so I could watch the series on TV! And Big Finish's audio range has just elevated it."
Steven Kavuma, who directed the July release, Torchwood: Restricted Items Archive Entries 031-049, and the forthcoming Torchwood: Death In Venice, said: "Working with Big Finish has been great fun. Everyone is so great and lovely to work with including the stars.
"I had Doctor Who audio stories on CD when I was younger so it feels like a dream job to be doing for my younger self. The scripts feel so true to Torchwood and to be able to direct them is another dream come true.
"My favourite thing about working with Big Finish is reading a really great script and getting in the studio to record it. I love picking up a script that you can't put down and you're raring to go and work with everyone to bring it to life.
"I'm working on another new Torchwood story now and I cannot wait for people to listen to it. The script is amazing and the cast is brilliant. It's probably my favourite one so far!"