For The Love Of StoriesBig Finish produce fantastic full-cast audio dramas for CD and download.
A stitch in time saves Six!
19 May 2023
Story details are today revealed for Big Finish's two remaining 2023 bonus audiobook downloads which will accompany the Sixth and Seventh Doctors' full-cast audio adventures.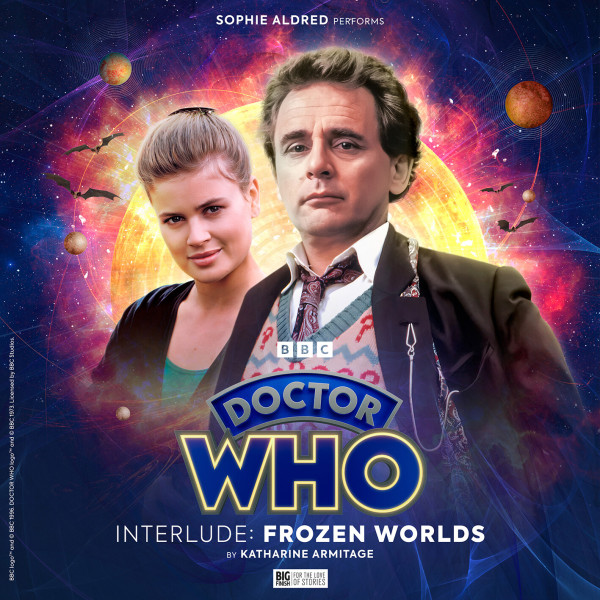 Due for release this month, Doctor Who – Interludes: The Doctor and His Amazing Technicolour Nightmare Coat will be accessible to Big Finish listeners who have purchased The Sixth Doctor Adventures: Purity Unleashed. The Interlude, written by veteran Doctor Who author Gary Russell and read by actress Rosie Baker, continues the adventures of the Sixth Doctor and Mel.
A loose thread on his spectacular coat ties the Doctor and Mel into complicated knots. With an obstreperous otter and assorted cloned bureaucrats on their coat-tails, they have to unravel a multitude of scams and schemes to get the Doctor's coat – and his TARDIS – back.
Producer Jacqueline Rayner said: "I was over the moon that Gary Russell could be tempted back to the world of the Sixth Doctor. As well as shaping his future at Big Finish, he was also responsible for three significant novels about the Sixth Doctor and Mel, including Spiral Scratch, which gave the Doctor his prose regeneration.
"As you might expect, Gary's Interlude is brimming with fun and invention, and it was a joy to read and record. Rosie Baker valiantly threw herself into the chaos and gave a wonderful performance that captures the wit and humour of Gary's tale."
Writer Gary Russell added: "It's been more years than I care to remember since I last had the chance to write some prose featuring my dream team of Ol' Sixie and Mel. What a joy to revisit them, their banter, their wit and above all, that coat! Oh, and otters are lovely creatures, but not very good purveyors of tee-shirts. If you take any lessons away from this story, that should be it!"
The final Interlude of 2023, Frozen Worlds written by Katharine Armitage and performed by Sophie Aldred, will be released as part of The Seventh Doctor Adventures: Far from Home box set in June 2023.
On the peaceful world of Nauros, the children play a game. There are creatures in the skies – the bat-like Flitters – which feed on possibilities, and the game is to find out who scores the highest. But now, crops are failing and the planet is in danger of starving. And when a time traveller meets the Flitters, it seems things can only get worse...
Sophie Aldred said: "I thoroughly enjoyed recording this story as, despite sitting in my cramped airing cupboard full of towels and sheets, I had very clear pictures in my mind's eye of exactly what the landscape was like and the atmosphere conjured up. I like the fact that Ace is goaded into a game that she knows she really shouldn't be playing – one of those moments which I'm sure will have the listener shouting, 'No! Ace! Don't do it! You know how this is going to go!' Great fun."
FAQ
What are Interludes?
Interludes are hour-long audiobook adventures with music and effects, read by a well-known Doctor Who actor.
How do I get them?
Interludes are available as downloads only to Big Finish listeners who purchase the first box set release from each of the Fifth, Sixth and Seventh Doctor ranges in 2023:
Can I buy Interludes separately, or on CD?
Currently there are no plans to make Interludes available for purchase as individual collector's edition CDs or downloads.
Will there be Interludes bundled with the Eighth/Ninth/First Doctor box sets?
There are no plans for additional Interludes at the moment.
Each box set is now available to pre-order for just £19.99 (collector's edition CD box set + download) or £16.99 (download only.)
Big Finish listeners can save money by pre-ordering all three box sets as part of a 12-release Classic Doctors bundle for just £198 (collector's edition CD box set + download) or £228 (download only). A 14-release bundle is also available from just £237.
Please note that Big Finish is currently operating a digital-first release schedule. The mailout of collector's edition CDs will be delayed, but all purchases of this release unlock a digital copy that can be immediately downloaded or played on the Big Finish app from the release date.