For The Love Of StoriesBig Finish produce fantastic full-cast audio dramas for CD and download.
A Summer of Thrilling Torchwood Tales!
30 May 2022
Story details and cover artworks are today revealed for the next two exciting Torchwood full-cast audio adventures, set for release in July and August 2022.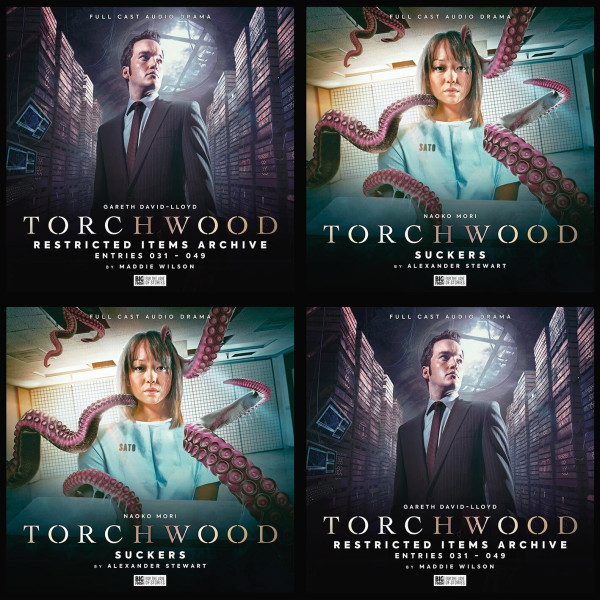 Fresh blood is coming to the Torchwood Monthly Range this summer, as two writers make their debut at Big Finish with an adventure apiece for both Ianto and Tosh.
In Maddie Wilson's Restricted Items Archive Entries 031-049, due out in July, Ianto Jones (Gareth David-Lloyd) ventures deep inside Torchwood's top-secret repository of alien artifacts, where he is chief librarian. But it's not quite how he left it...
Then in August, writer Alexander Stewart takes us for Suckers, a story which finds Toshiko Sato (Naoko Mori) locked inside a high-security mental health unit and doubting Torchwood's very existence. Her only hope for finding the truth is new roommate Shireen (Emma Kaler).
Each individual release is available to pre-order as a collector's edition CD (+ download for just £10.99 per title) or digital download only (for just £8.99 each), exclusively here.
Both Torchwood audio dramas are also available to pre-order in a six-release Torchwood bundle for just £60 (collector's edition CD + download) or £50 (download only) or a twelve-release bundle from just £94.
Restricted Items Archive Entries 031-049 by Maddie Wilson
The Restricted Items Archive is where all the items too dangerous for Torchwood are stored. Ianto Jones carefully catalogues each and every one. And he always works down there alone. Only, something's not quite right. There's a secret in the Restricted Items Archive that won't be ignored any longer.
Shireen's not exactly enjoying being sectioned, but she's been in worse places. That psychiatric unit in Brecon was a right dump. This one's alright, though. There's table tennis, art therapy and they even get to do a bit of gardening.
There's only one problem. Shireen's roommate. Toshiko – she's a total space cadet, convinced the unit is overrun by aliens. Yeah, right.
Please note that Torchwood contains adult material and may not be suitable for younger listeners.
Maddie Wilson, writer of Restricted Items Archive Entries 031-049, said: "Ianto has a lot going on below the surface. He gets to express his frustration in this story about being ignored and overlooked. I like the idea that Torchwood is sitting on this archive of strange, baffling items that make no sense and it isn't clear what they should do with them. It's been fun to explore what's hiding in there."
Writer of Suckers, Alexander Stewart, added: "I used to work in mental health units and wanted to use that experience to create this script for Big Finish. There was always an interesting dynamic between staff and patients which I have explored in this drama by putting the brilliant but vulnerable character Tosh in this scenario. Can she be sure that the monsters she's seeing are real?"
Please note that Big Finish is currently operating a digital-first release schedule. The mail-out of collector's edition CDs may be delayed due to factors beyond our control, but all purchases of this release unlock a digital copy that can be immediately downloaded or played on the Big Finish app from the release date.