For The Love Of StoriesBig Finish produce fantastic full-cast audio dramas for CD and download.
Arlen Crosses Enemy Lines!
20 December 2022
The origin story of Federation officer Arlen is revealed in a brand-new Blake's 7 full-cast audio box set, based on Terry Nation's BBC TV series, released today by Big Finish Productions.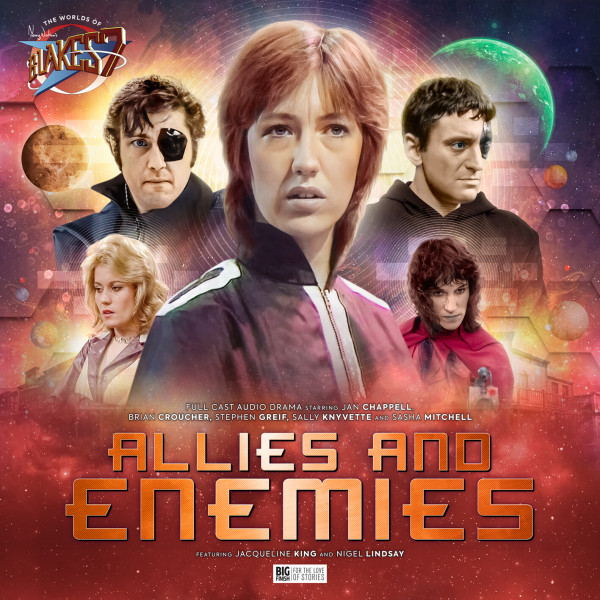 These three brand-new stories explore what led Arlen (played by original TV actor, Sasha Mitchell) to her murderous fate in the sci-fi classic's shockingly gruesome finale, Blake (1981).
From the start of the rebellion to its brutal conclusion, Arlen has hunted for Roj Blake.
Cally (Jan Chappell) fights beside her. Jenna Stannis (Sally Knyvette) works for her. Space Commander Travis (Brian Croucher and Stephen Greif) is her mentor. As she plays each side off against the other, how will Arlen decide who are allies and who are enemies?
The Worlds of Blake's 7: Allies and Enemies is now available to own as a collector's edition CD box set (+ download for just £19.99) or download only (for just £16.99), exclusively here.
Saurian Major by Lizbeth Myles
Saurian Major is a key Federation communications hub. Federation Officer Arlen undertakes an undercover mission to destroy the rebel factions that threaten it.
The last person she expects to find is an Auron outcast among the humans. Will the mysterious Cally disrupt her plan?
Writer Lizbeth Myles said: "I love the Blake's 7 universe. Getting to write for these characters is tremendously fun and exciting. Cally is one of my favourites – she's a fascinating character.
"I really enjoyed writing for Arlen because she's so ruthless. It's fun when they don't have noble motives. Arlen is absolutely willing to kill as soon as someone's a problem."
No Name by Simon Guerrier
Everyone on Vanstone is hiding something. That's why they are there. Hiding from her own past, Arlen wonders what has brought Roj Blake to this remote outpost.
Has Arlen uncovered a buried secret? And what does Space Commander Travis want on Vanstone?
Writer Simon Guerrier said: "On TV, Arlen is a very cool, calculating and powerful figure but I've got her on the backfoot in this story. I wanted to show more depth to her by exploring the idea of a wounded Arlen licking her wounds – she's not sure of her next move. I hope that if you watch Arlen on TV again, because of this story, you'll see something a bit different in her."
Sedition by Jonathan Morris
Jenna Stannis knows that smuggling guns will help free Solta-Minor from the Federation. And she suspects that's not the only reason why Arlen wants her help.
But Jenna doesn't know who else is on the planet. How can Travis have survived Star One?
Writer Jonathan Morris said: "On a mission of mercy, Jenna Stannis discovers a ghost from her past. In a desperate fight for survival, she finds that her enemy's enemy is not necessarily her friend. Is Jenna prepared to kill to protect Blake?"
Big Finish listeners can save money by purchasing Allies and Enemies and November's After the War together in a bundle for just £38 (collector's edition CD box set + download) or £33 (download only).
All the above prices include the special pre-order discount and are subject to change after general release.
Big Finish is currently operating a digital-first release schedule. The mail-out of collector's edition CDs may be delayed due to factors beyond our control, but all purchases of this release unlock a digital copy that can be immediately downloaded or played on the Big Finish app from the release date.