For The Love Of StoriesBig Finish produce fantastic full-cast audio dramas for CD and download.
Arlen's Allies and Enemies!
16 September 2022
The story details and cover artwork are today revealed for the brand-new box set of Blake's 7 full-cast audio dramas, due for release in December 2022 from Big Finish Productions.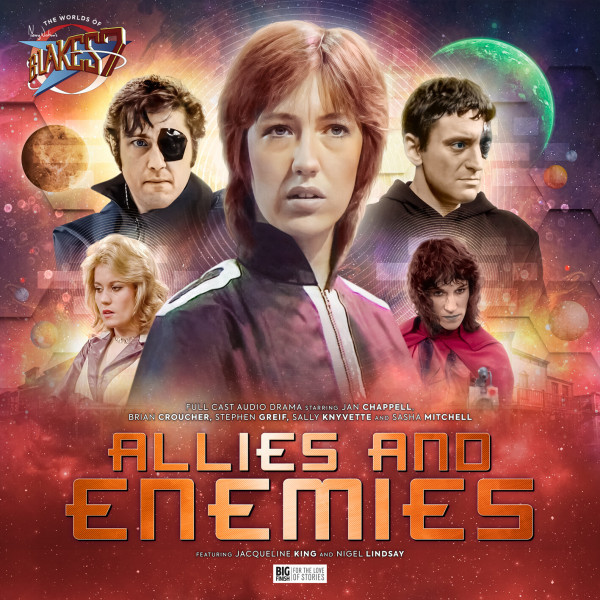 Sasha Mitchell reprises the legendary role of Federation officer Arlen – who ruthlessly betrayed Blake in the unforgettable final episode Blake (1981) of Terry Nation's BBC TV series.
Allies and Enemies explores Arlen's origin story – from being an ambitious young soldier to becoming a cold-hearted special agent. Along the way, Arlen encounters Cally (Jan Chappell), former Liberator member Jenna (Sally Knyvette), and two versions of Travis (Brian Croucher and Stephen Greif).
The Worlds of Blake's 7 - Allies and Enemies, is now available to pre-order as a collector's edition CD boxset (+ download for just £19.99) or downloads only (for just £16.99), exclusively here.
The incredible cast also includes Jacqueline King (known for playing Sylvia Noble in Doctor Who), Victoria Alcock (Bad Girls) and , joining Big Finish for the first time, Nigel Lindsay (The Salisbury Poisonings, White Gold).
From the start of the rebellion to its brutal conclusion, Arlen has hunted for Roj Blake.
Cally fights beside her. Jenna Stannis works for her. Space Commander Travis is her mentor. As she plays each side off against the other, how will Arlen decide who are allies and who are enemies?
The three explosive adventures are as follows:
Saurian Major by Lizbeth Myles
Saurian Major is a key Federation communications hub. Federation Officer Arlen undertakes an undercover mission to destroy the rebel factions that threaten it.
The last person she expects to find is an Auron outcast among the humans. Will the mysterious Cally disrupt her plan?
No Name by Simon Guerrier
Everyone on Vanstone is hiding something. That's why they are there. Hiding from her own past, Arlen wonders what has brought Roj Blake to this remote outpost.
Has Arlen uncovered a buried secret? And what does Space Commander Travis want on Vanstone?
Sedition by Jonathan Morris
Jenna Stannis knows that smuggling guns will help free Solta-Minor from the Federation. And she suspects that's not the only reason why Arlen wants her help.
But Jenna doesn't know who else is on the planet. How can Travis have survived Star One?
Sasha Mitchell said: "Arlen is hard, sneaky and very smart – smarter than her commanders at times. I just love playing her! It's great to play an evil person. I was so excited to get the chance to step back into her shoes and get to know more about her and what made her the way she is.
"It was a joy to work with both Sally Knyvette and Stephen Greif. We weren't in the studio together so I never saw their faces but Stephen has the most incredible voice and he's very funny. Sally was lovely too and has a really strong energy so I was able to bounce off that.
"I really enjoyed working with Brian Croucher even though I was acting without seeing him in the flesh! He brought a true villainous quality to Travis which made it easy for me to play against.
"Jan Chappell was very welcoming in the studio and I loved the light touch and nuance of her voice on the recordings. I'm so happy I got the chance to meet her.
"It's been such fun for me and really nice to revisit Arlen. I always wanted to do more with her but I never had the chance. I love the passion with which people support Blake's 7 after all of these years. I was delighted when I was approached to do this. I've had such a good time!"
The Worlds of Blake's 7 - Allies and Enemies is now available to pre-order for just £19.99 (collector's edition CD box set + download) or £16.99 (download only), exclusively from the Big Finish website.
Big Finish listeners can save money by pre-ordering both this box set and November's After the War, together in a bundle for just £38 (collector's edition CD box set + download) or £33 (download only).
All the above prices include the special pre-order discount and are subject to change after general release. From November 2022, newpre-order prices will apply for unreleased box set.
Please note that Big Finish is currently operating a digital-first release schedule. The mailout of collector's edition CDs will be delayed, but all purchases of this release unlock a digital copy that can be immediately downloaded or played on the Big Finish app from the release date.