For The Love Of StoriesBig Finish produce fantastic full-cast audio dramas for CD and download.
6 April 2019
Professor Bernice Surprise Summerfield, known as Benny, has been a mainstay at Big Finish ever since the company's inception. The first ever Big Finish release was the Benny story, Oh No It Isn't! starring Lisa Bowerman as the time-travelling archeologist. But just who is Benny? And where should you start if you want to experience her story?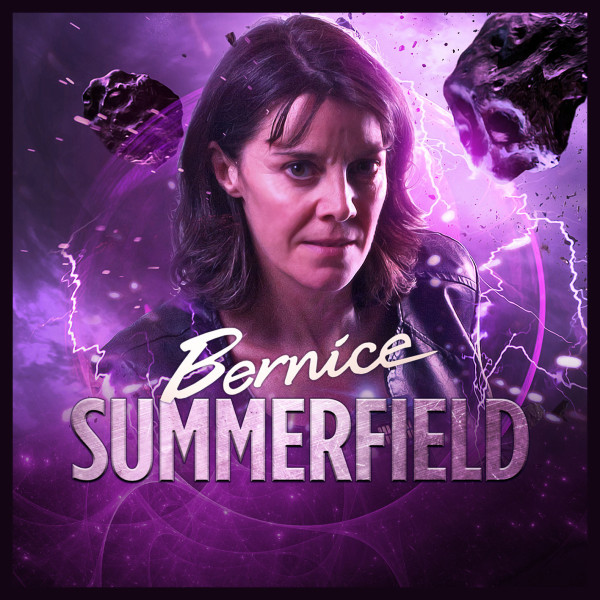 More than 20 years later and the Benny audio adventures are still going strong. Bernice Summerfield, archaeologist, adventurer, mother and occasional goddess, has had many adventures both alone and with the Doctor – even popping into other universes and meeting other Doctors!
Actor and first lady of Big Finish, Lisa Bowerman, described how she felt about playing Benny for the last two decades: "Date: 25th June 1998. Scene: a damp cellar in Elephant and Castle. Arrive to find a couple of hippies, a cast of panto characters, Gary Russell, Nicholas Briggs on a stool, a man in a corner with a DAT machine, Nicholas Courtney, one microphone – and a moth eaten cat. Not the most auspicious start to a job which frankly I thought would last a couple of days!
"Cut to: 25th June 2018. Email is now a thing – and I get a message from Big Finish's marketing guru, Paddy Freeland, to tell me Benny's licence has been extended to 2023!
"Never in a month of Sundays could I have imagined on that day 20 years ago that the adventures of Professor Bernice Summerfield would still be going. It's been two decades of danger and excitement (and that was just some of the studios we recorded in!) – brilliant writing, great adventures, wonderful casts, directors and producers – and the beginnings of what would be an astonishingly successful audio production company.
"Hooray for Benny, and hooray for Big Finish. I've a lot to be grateful for!"
But just who is Benny? And where should you start if you want to experience her story?
Growing up
If you're looking to start at the beginning of Benny's life, look no further than The Story So Far Volume One. Ever After Happy, the first of three stories in this release, explores the teenage life of Benny as she grows up living in the grounds of a military training academy.
Bernice Summerfield: The Story So Far Volume One box set is available for £25.00 on CD and £20.00 on download. And you can get an extract of this story for free here.
Benny and Doctor Who
If, however, you want your Benny beginning to be her first ever appearance in the Doctor Who universe, you're going to want to listen to Love and War. Written by Paul Cornell and adapted by Jacqueline Rayner, Benny meets the Seventh Doctor and Ace on the planet Heaven, a cemetery for humans and Draconians alike. Needless to say, the serenely named world does not remain peaceful for long…
Love and War is available on CD at £14.99 and download at £12.99.
The Braxiatiel Collection
First mentioned in the Doctor Who television episode, City of Death, the Braxiatel Collection is a museum filled with rare artefacts and pieces of art – and you'll never guess who their chief archaeologist is? Surprise, it's Professor Bernice Summerfield! Well, the clue is in her name after all…!
Professor Bernice Summerfield and the Doomsday Manuscript recounts the opening of the Braxiatel Collection and Benny's quest for the eponymous guide to finding the Lost Tomb of Rablev. With only the first half in her possession, Benny must locate the ending before the Fifth Axis – who are aggressively acquiring territories and archaeological finds – and ideally, she'd like to squeeze a quick drink in as well…
Professor Bernice Summerfield and the Doomsday Manuscript is available as a paperback (while stocks last) for just £3.00 and as an audiobook download for the web special price of £9.99.
Travelling with the Unbound Doctor
Another fantastic jumping on point into the world of Bernice Summerfield is when Benny is pulled into a parallel dimension by an alternative version of the Doctor played by David Warner. Universe-hopping begins in The New Adventures of Bernice Summerfield which, unfortunately, leaves Benny in a dying reality with a Doctor who is even more cantankerous than the one she's used to!
The New Adventures of Bernice Summerfield – Volume Three: The Unbound Universe box set of four adventures is available for £30.00 on CD and £25.00 on download.
If this has encouraged you to get acquainted with our resident archaeologist, you can find all of Benny's adventures at Big Finish - both audios and in print - in our Collection: Bernice Summerfield - The Story So Far.
What are your favourite Benny adventures? Where do you see Benny travelling to next? Let us know!