For The Love Of StoriesBig Finish produce fantastic full-cast audio dramas for CD and download.
28 January 2019
Starting this year some of our classic Bernice Summerfield books are being released on audio. Five new audiobooks narrated by Lisa Bowerman and produced by Xanna Eve Chown will be released in 2019-2020.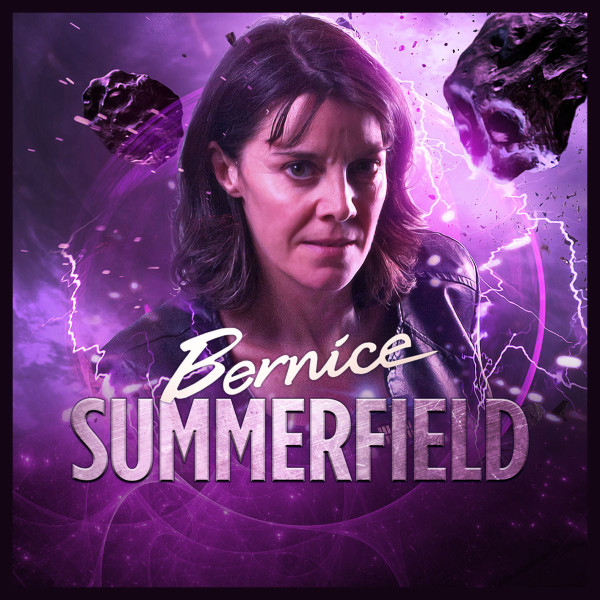 The first five chapters in the history of Bernice Summerfield at Big Finish are being revisited in 2019 and 2020 with the release of five new audiobook adaptations.
Read by Benny herself, Lisa Bowerman, these audiobooks will take us back to the turn of the millennium, unlocking some of the important moments of Benny's life at the Braxiatel Collection, her past love, and the birth of her son Peter.
Xanna Eve Chown, producer of these and other Big Finish Audiobooks, tells us about uncovering these gems: "I'm really excited about recording these five Benny paperbacks because they are such fun, of course, but also because I know there are Benny fans who have wanted these to be more easily available for absolutely ages – so they will be super happy!
"The adventures explain a lot of Benny's backstory, especially the unusual story of how her son Peter came to be born, so it's great to get them back out there in the world where they belong!"
DUE FOR RELEASE IN MARCH 2019
The Doomsday Manuscript by Justin Richards
With the party to celebrate the opening of the Braxiatel Collection and the new year still underway, Benny finds herself drawn into a web of mystery and intrigue that starts with death and gets more serious at every stage. Can she find the second half of the Doomsday Manuscript before it falls into the wrong hands? Can she trust her partner in the quest? What will she find on Kasagrad – the location of the Lost Tomb of Rablev?
DUE FOR RELEASE IN APRIL 2019
The Gods of the Underworld by Stephen Cole
There's a whisper going round that the long-lost temple of the Argian Gods of the Underworld has finally been discovered on the planet Venedel. There's a still quieter whisper that deep inside it lies the Argian Oracle, an ancient artefact that can pinpoint the whereabouts of any soul in the universe. Benny Summerfield sets out to see if the whispers are true ­and to see if it can tell her the whereabouts of her missing lover. She's got nothing to lose.
DUE FOR RELEASE IN OCTOBER 2019
The Squire's Crystal by Jacqueline Rayner
Legend tells of an evil sorceress who used the power of magical crystals to transfer her mind into the bodies of others. Her reign of terror was long and bloody, and her final defeat the cause of great rejoicing. But that's just a legend. A story told to children. Isn't it? I mean, it's ridiculous. It couldn't have really happened... could it?
And one thing that's very, very unlikely is that Benny will suddenly find herself to be a member of the opposite gender...
DUE FOR RELEASE IN JANUARY 2020
The Infernal Nexus by Dave Stone
Acting on an abstruse tip-off, Bernice find Central Station. A place that exists, simultaneously, in four hundred and seventeen dimensions, a brawling souk-like Nexus between every world that can, as has or ever will be. And one of those dimensions is Hell.
DUE FOR RELEASE IN MARCH 2020
The Glass Prison by Jacqueline Rayner
Don't ever annoy the Fifth Axis. They might throw you into the Glass Prison on Deirbhile and then throw away the key. Once you're inside, there's nowhere to hide. They can see your every movement. They control you. You're going to be watched for the rest of your life, wherever you go, whoever you are.
Even if you're a professor of archaeology.
Even if you're a friend of the famous Irving Braxiatel, and you've written several popular coffee-table books.
Even if you're pregnant.
Even if your baby's due any day now.
But, of course, they know all about your baby. And they're planning to take it away. Thatis, if the scary cultists you're locked up with don't get it first.
Each of these audiobooks can be pre-ordered at £9.99 each. Or you can purchase all five together (available to download on day of release) in a bundle priced at just £40.