For The Love Of StoriesBig Finish produce fantastic full-cast audio dramas for CD and download.
Berserker Daleks v the Gallifrey War Room
28 September 2023
We're returning to the horrors of the almighty Time War between the Time Lords and their greatest enemy in the latest Gallifrey War Room box set from Big Finish Productions.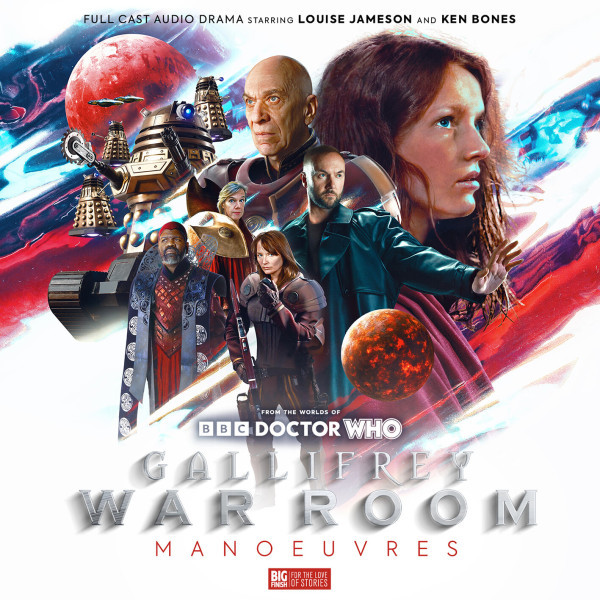 Released today, Gallifrey: War Room 2: Manoeuvres reunites Leela (Louise Jameson), the General (Ken Bones) and Narvin (Seán Carlsen) in four brand-new full-cast audio dramas, as the battle for supremacy over the Daleks (Nicholas Briggs) takes them to some very dark places.
Just who is the Time Lords' greatest enemy?
Gallifrey: War Room 2: Manoeuvres is now available to own for just £24.99 (collector's edition CD box set + download) or £19.99 (download only) exclusively here.
With Gallifrey at war, whoever runs the War Room will determine the future of the Time Lords...
The War Room co-ordinates the fight against the Daleks, but there is a battle for control. Rival Cardinals Rasmus and Ollistra manipulate Leela, Veklin and the General, seeking Rassilon's favour. And beyond Gallifrey, Narvin and the Resistance are making their own moves to stop the Time War…
The four politically-charged episodes are:
Collaborators by Katharine Armitage
Gallifrey and the Resistance are in a race to secure a vital alliance. But playing politics means secrets, lies and betrayal… and Leela, caught in the middle, must try to rescue honour from chaos.
Remnants by Georgia Cook
A distress call from a Gallifreyan outpost brings the General, Rasmus and Veklin into contact with weapons of the Time War from both sides. Trapped, young Time Lord Cresta fights for her life against a relentless foe.
Transference by Fio Trethewey
When a promising scientist is injured and his new technology stolen, Ollistra sets Leela on the trail. Her hunt takes her outside the Citadel to Lowtown, where a shock awaits.
Narvin has returned to Gallifrey. But in trying to help his kin, he risks more than he knows.
Ambition's Debt by Katharine Armitage
Tensions run high in the War Room as the battle for control intensifies. A world has gone missing, the Daleks are too quiet, and something new lurks in the shadows…
A dangerous plan is set in motion with the potential to change everything.
The ensemble cast for this audio box set includes Chris Jarman (as Rasmus), Carolyn Pickles (as Ollistra), Beth Chalmers (as Veklin), Faith Omole (as Cresta) and Pepter Lunkuse (as Lenaris).
Director Samuel Clemens said: "Working on this new set of Gallifrey was so satisfying as we are expanding the universe, characters and the peril they find themselves in. We take our characters to places that require tough decisions and I'm so excited to release this to the world. The team at Big Finish who have worked on this have outdone themselves in all areas."
Actor Seán Carlsen added: "After two years of recording from home it was fantastic to be back in the studio with our wonderful new series producer Heather Challands and the ever-brilliant Sam Clemens directing and recording with old friends and new, not to mention old foes and new allies! Where will the next instalment of this epic Gallifrey saga take us?!"
Big Finish listeners can save money by ordering all four volumes of the Gallifrey: War Room series together in a bundle for just £88 (collector's edition CD box set + download) or £78 (download only).
All the above prices include the special pre-order discount and are subject to change after general release.
Please note that Big Finish is currently operating a digital-first release schedule. The mailout of collector's edition CDs will be delayed, but all purchases of this release unlock a digital copy that can be immediately downloaded or played on the Big Finish app from the release date.