We love StoriesBig Finish produce great full-cast audio drama for CD and download, featuring many popular television fantasy series.
Big Finish Book Club - Gallifrey
2 March 2019
This month in the Big Finish Book Club we're heading to Gallifrey. Intervention Earth was originally released in February 2015 and stars Juliet Landau as President Romana alongside Sophie Aldred as Ace, Seán Carlsen as Narvin with the return of Stephen Thorne as Omega.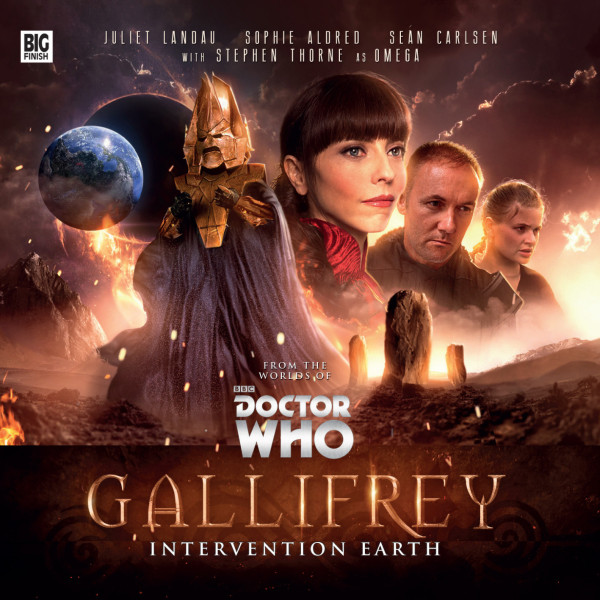 Gallifrey – Intervention Earth is available at just £4.99 on download throughout March.
Times change…
Romana is approaching her final term of office and hopes to leave her world in a state of peace and harmony. Narvin is concerned about the implementation of a controversial Precog programme, one that seeks to predict the Time Lords' future. Ace is an operative for the Celestial Intervention Agency, having learned the art of interference from one of the best…
And somewhere, across the stars, an ancient force is stirring: one of the Time Lords' greatest heroes is returning to our universe. But he may also prove to be their greatest threat.
When the history of Earth is threatened, and an ancient conspiracy reaches the heart of Time Lord government, can even Romana's closest allies truly be trusted?
Time will tell… but by then, it may already be too late.
To get Gallifrey – Intervention Earth at the special Big Finish Book Club price head to www.bigfinish.com/offers/v/bookclub and enter access code STORIES. Once purchased, why not head over and sign up for our new Facebook group, The Big Finish Book Club.
We'll be posting some talking points to kick things off, and then at the end of the month we will host a discussion session and have good (virtual) natter. We're hoping to be able to involve some of our writers in future sessions, and you'll able to post your questions for them about any plot points which have got you baffled. Just like a traditional book club but designed to involve our listeners all over the globe.
This month's Book Club will be meeting on Facebook on the 21st March (giving you a chance to listen to Intervention Earth amongst all the others great releases this month).
Volume Two of the Gallifrey – Time War saga is also out this month. Terrence Hardiman (who listeners will recognise as playing the titular role in the children's BBC series, The Demon Headmaster) plays Rassilon in Gallifrey – Time War Volume Two, joining Lalla Ward as Romana and Seán Carlsen as Narvin.
Rassilon has returned – summoned back from the dead, to lead his people through their greatest crisis.
But the Time Lords will reap what they have sown, and the consequences of this resurrection will determine Gallifrey's fate.
And in among the schemes and strategies of war, Romana and Narvin are losing friends and allies, as they become ever more isolated…
You can pre-order this title now, or why not pre-order all four volumes of Gallifrey – Time War in a bundle, and get Gallifrey – Time War Volume One now.