For The Love Of StoriesBig Finish produce fantastic full-cast audio dramas for CD and download.
Blake's 7 Heroes versus Villains
12 May 2022
Rebellious freedom fighters Jenna and Cally face-off with three familiar foes in a brand-new box set from The Worlds of Blake's 7 range, released today by Big Finish Productions.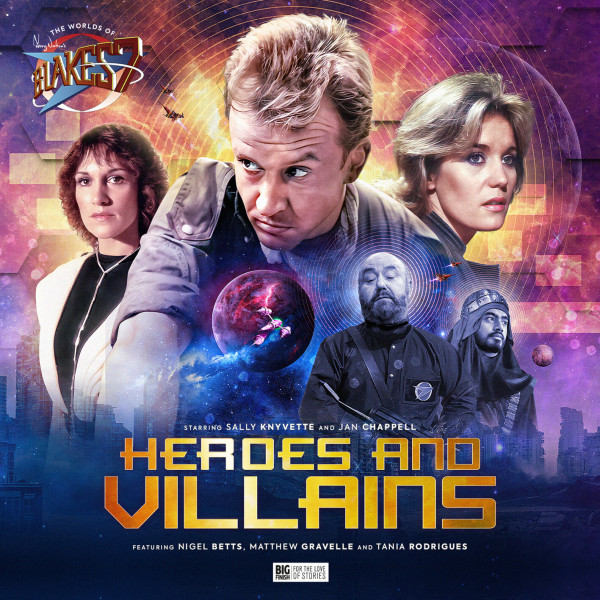 In three full-cast audio adventures, Sally Knyvette and Jan Chappell reprise the legendary roles of Jenna Stannis and Cally, which they first played in 1978. But this time the Liberator crew members are at the forefront of the action as they encounter notorious opponents from the original Terry Nation TV series.
The Worlds of Blake's 7: Heroes and Villains is now available to own as a collector's edition 3-disc CD box set (+ download for just £19.99) or digital download (for just £16.99), exclusively here.
Unscrupulous bounty hunter. Cunning rogue trader. Sadistic interrogator. They're adversaries to avoid, but now they've found Jenna Stannis and Cally.
The Amagons deceive enemies and allies alike. Dorian's glamour disguises his danger. And there's no hiding Shrinker's brutal intentions. These villains will have no mercy when they encounter our heroes.
The three exciting adventures in this box set are as follows:
The Amagon Queen by Trevor Baxendale
Smugglers. Slave-traders. Bounty hunters. Jenna Stannis knows from personal experience that you just can't trust the Amagons.
So why has she delivered herself alone into the hands of the infamous Amagon Queen? And can Cally help her escape before a Federation commander and his ruthless mutoid track them all down?
Deal with Dorian by Mark B Oliver
Jenna Stannis and Cally need supplies to repair the damaged Liberator, and treacherous dealer Dorian is the only one who can help.
But he has dangerous plans of his own at a remote Federation research station. Will Cally and Jenna realise the danger they're in before they fall under Dorian's influence?
Everyone Talks to Shrinker by Andrew Smith
Captured and alone, Jenna Stannis is defenceless in the Federation's clutches. Cally's desperate to find her friend –and they are both far from the Liberator.
In a hostile Federation battleground, Jenna discovers there can be no escape from her cruel interrogator, the notorious Shrinker.
Matthew Gravelle (Manhunt, Broadchurch) guest stars as Dorian, first portrayed on screen by Geoffrey Burridge in the 1981 TV episode Rescue. Tania Rodrigues (Coronation Street) voices the Amagon Queen Mandala and Nigel Betts (Doctor Who, Outlander) plays the menacing Federation interrogator, Shrinker.
The star-studded cast also includes Gabrielle Glaister (Blackadder, Unforgotten), Nicholas Asbury (Alma's Not Normal, Why Didn't They Ask Evans?), Duncan Wisbey (Hard Cell), and Shane Zaza (Press, Happy Valley).
Sally Knyvette said: "Jenna is deep in my psyche – playing her has been such a big part of my life. I feel like Jenna has at last got more to do and is more as I rather envisaged her in the old days. Now she's much more proactive, punchy, and powerful. Her character is much more interesting — she's got depth and strength. I'm enjoying it enormously.
Jan Chappell added: "Sally and I were a bit frustrated with the second series of Blake's 7 on TV. We weren't seeing as much action as the boys were and we wanted to get out and about. Sally sent me a message saying 'the girls have come into their own this time, haven't they?' referring to the work we've been doing over the last three days.
"It's been a very positive experience. There's something about recording in a home studio without being able to see the other actor. It had a different type of concentration – it was very interesting just listening to the voice."
Director Lisa Bowerman added: "The Worlds of Blake's 7 stories have proved that both Cally and Jenna can survive perfectly well independently of each other. Historically, we've heard about how slightly disappointed Sally and Jan were to be left on the Liberator during the TV episodes. It's nice to have the opportunity to expand the characters so much more.
"It's been absolutely wonderful working with Jan and Sally. Blake's 7 has such an extraordinary reach in terms of the stories you can deal with. You can be as allegorical as you like but people can draw parallels to their own lives as well."
Praise for The Worlds of Blake's 7: The Terra Nostra:
"It's a satisfying trio of tales, asking and answering many of the questions fans have speculated about for years."
Blake's 7 Online

"The Worlds of Blake's 7 range has impressively shined a light on the lesser explored corners of the series. There's still plenty of adventure to be found in Terry Nation's dystopic universe."
Indie Mac User
The Worlds of Blake's 7 – Heroes & Villains is now available to own at £19.99 (collector's edition CD + download) or £16.99 (download only) exclusively from the Big Finish website.
All the above prices include the special pre-order discount and are subject to change after general release.
Big Finish is currently operating a digital-first release schedule. The mail-out of collector's edition CDs may be delayed due to factors beyond our control, but all purchases of this release unlock a digital copy that can be immediately downloaded or played on the Big Finish app from the release date.