For The Love Of StoriesBig Finish produce fantastic full-cast audio dramas for CD and download.
Captain John is back in Torchwood
30 August 2017
An old flame of Captain Jack's returns to Torchwood, as Captain John - played by James Marsters (Buffy) - returns to wreak havoc in The Death of Captain Jack.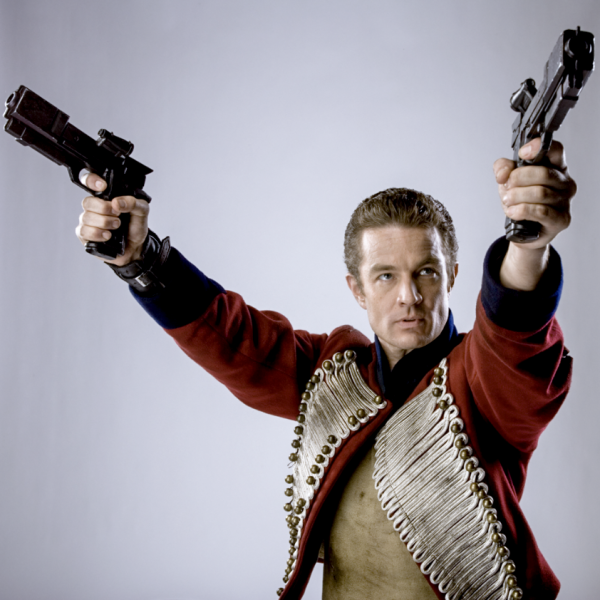 We last saw Captain John and James Marsters in the finale of Series Two of Torchwood, originally broadcast in April 2008. With Torchwood continuing at Big Finish with Series 5 – Aliens Among Us, it seemed only right to bring Captain John back for the ride for The Death of Captain Jack.
Captain Jack is finally dying, and it's time for his oldest friend to visit his deathbed. King John has come to tell him a story. The story of the life he should have had.
It's the story of Alexander the Great, sinking ships, falling empires, robot dinosaurs, and alien invasions. It's a story of love, royal weddings, murder, mass murder, genocide, and very tight trousers.
It's the story of the life of Captain John and it's the story of Torchwood. Be careful what you wish for.
"The Death of Captain Jack is just naughty!" producer James Goss tells us. "It was a joy to get James Marsters back in, and, once again, Captain John romps through Torchwood like a demented clown. David Llewellyn has given us a peek into a world we really shouldn't see – one where John steals Jack's timeline and creates havoc.
"If you've ever wondered what Torchwood would be like with Captain John at the helm, wonder no more. Nothing from the world of Torchwood emerges unspoiled – and that includes Queen Victoria, and Ianto's dress sense!"
This story will be released when the Torchwood monthly range kicks off in March 2018 – available for pre-order now for £9.99 on CD or £7.99 on download. Or you can save with a bundle – order Torchwood monthly stories 19–24 for £45 on download or £50 on CD. All CD orders unlock a digital download which works with the Big Finish app.
If you're missing the Torchwood monthly releases don't forget we still have parts 2 and 3 of Torchwood Aliens Among Us to come in October and January respectively. Check out the trailer for part 1 below.