We love StoriesBig Finish produce great full-cast audio drama for CD and download, featuring many popular television fantasy series.
Cicero Interview with writer #2
22 March 2018
Today we continue our chat with the writer of one of our Big Finish Originals, David Llewellyn, who talks all about Cicero in an exclusive interview.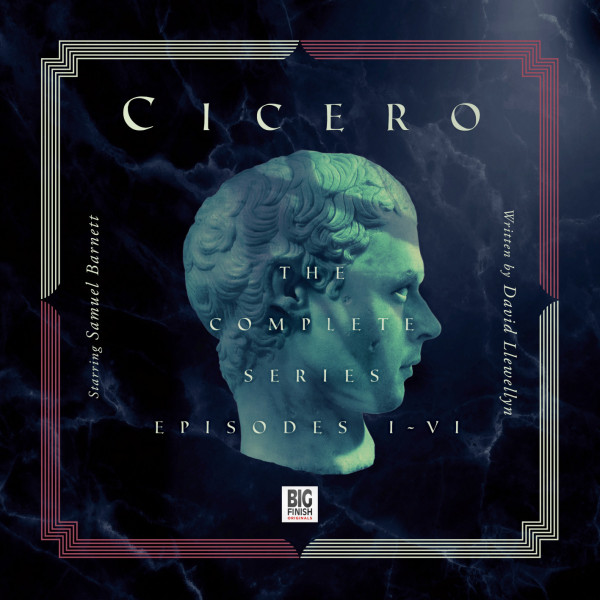 Read the first part of this interview here -> https://www.bigfinish.com/news/v/cicero-interview-with-writer
Big Finish (BF): So what was the driving force behind Cicero for the Big Finish Originals?
David Llewellyn (DL): Scott Handcock came up with the idea, and he came to me with the idea of doing young Cicero. I wrote the pilot off that, and the exciting starting point, which was one of the murder trials, so we started by looking at the murder trial speeches. Then when it came to a series we didn't want it to be "case of the week", but rather a dramatic plot that would start with the repercussions of the pilot and it would escalate from there. There was plenty going on in Cicero's life elsewhere that it was almost like a story arc. It started with him defending Sextus Roscious to him going off to Greece and shortly after he got married.
There is a lot of human drama going on behind these events that we know definitely happened. Getting married, not having children, various rumours and gossip about him and an old school friend... If you read between the lines there's plenty that you can have a degree of artistic licence with, without needing to stick to historical records.
BF: And you could have gone two very separate ways, one, like a Roman Midsomer Murders plot (which also sounds amazing), but further into his life. You've built such strong characters and a world in the pilot that people are curious to find out more. And with the talents of Samuel Barnett and George Naylor… where could they go and how could their relationship change?
DL: One thing you get from later letters, you get a clearer idea of… with no spoilers… they're very close but it isn't always easy. Exploring their marriages… For example in the letters, Quintus mentions their mother quite fondly and Marcus never once mentions his mother. There could always be a piece of writing where he mentions his mother in a positive light but with what we have left, we get an impression the younger brother has a better maternal relationship. It's looking for the gaps in the historical record where the drama lies, and what was going through the characters heads.
BF: … and bringing it to life via audio. How did the casting of Samuel Barnett come about? Did you hear him in Torchwood (as Norton Folgate) and thought "that's Cicero"?
DL: When we first wrote the pilot, a couple of years ago, it sat on the shelf. The final version is very different from what I first wrote (after I had more experience writing audio). We didn't have anyone in mind at the time, no-one cast in particular. It happened after him playing Norton, and knowing how good Scott is with actors, he managed to get him in for Cicero.
I heard that Sam loved doing it because he loves audio and it's a fun days' work, and he gets to use his imagination. The minute Scott mentioned Sam I thought it was perfect. Almost like he was created for the part in my mind. You need someone who can convey his shyness, snobbery, apprehension, but also his strength and when he can stand his ground. You need someone who can do both, and not many can. Sam can, and brilliantly.
BF: He can be very powerful yet very empathic, then turn it to 150%, and drive the speech home. The speech in the pilot blows you away…
DL: Large chunks of the speech are translated word for word, from the actual event in translations! We could have done hours of the trial, but we abridged it for dramatic event. And Sam frames it incredibly well.
We wanted something that would feel similar to a modern listener because the legal system was so incredibly different back then compared to now. You could murder someone and unless someone else pressed charges you could get away with it. There was no police force, no similar judicial system… it was a challenge to get the similar elements to a modern world and balance with the totally alien, both across at the same time.
BF: Final question, if you could take the brothers Cicero anywhere post series one, no spoilers, where would they go?
DL: We haven't discussed it really, some of the really interesting things that we've left off from series one and would be coming up are decades away. So we'd have to jump a decade, with Caesar becoming more powerful. How does Cicero deal with that? And that could feel very modern. Or there's many other aspects going on…. I would be interested to hear Sam play older Cicero. That would be an interesting challenge.
BF: Depends on whether there's another series! If you threw it forward further, if you didn't have Sam, who would be the dream cast? The obvious shout is Derek Jacobi, who did I, Claudius…
DL: Oooh, but that is the joy of audio, Samuel could do it! But Caeser… that's tricky. I have thought of trying to get Caeser in as a cameo. That role would be an interesting one to cast, especially as a younger man. Instead of an actor with gravitas… When Caeser was a a young man, he used family connections to effectively become the Roman equivalent of the Pope in his twenties, he could be an awful character (there's a reason he's knifed to death in the Senate). Something to think about for a future series!
Thanks David!
Big Finish were delighted to learn that the first episode of Cicero was nominated for Best Audio Drama at the 2018 Audies. Listen to the trailer below.
Cicero is available as part of the Big Finish Originals range, a new wave of original audio drama launched to celebrate 20 years of publishing award-winning audio productions. The first series of Cicero, a six-episode adventure, will be available on download from www.bigfinish.com at a pre-order price of £21.
This offer includes the pilot of Cicero which was originally released in February 2017, which listeners can also download individually for a special price of £5 from www.bigfinish.com. In addition, you can listen to a free excerpt, available here.
The complete Big Finish Originals range is also available in a pre-order bundle deal of £120, as well as being available as individual downloads.