For The Love Of StoriesBig Finish produce fantastic full-cast audio dramas for CD and download.
Coming soon - Tales From New Earth
24 August 2017
Coming soon from Big Finish Productions, a return to New Earth!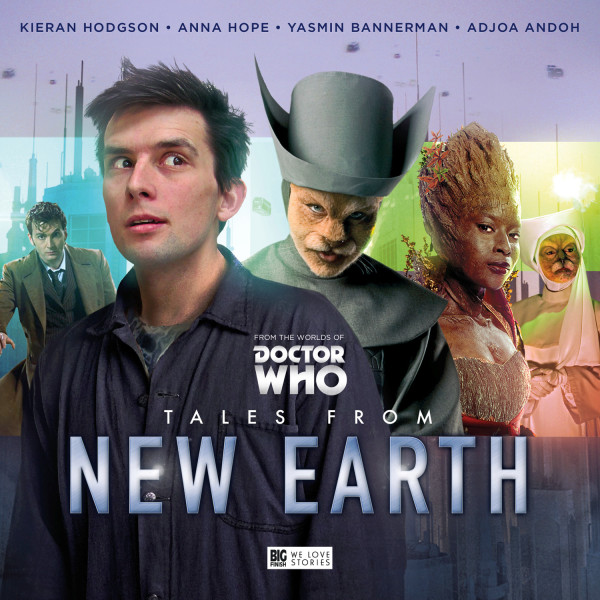 First announced alongside the upcoming Time War series with Paul McGann, and with further details first revealed in this month's Doctor Who Magazine, Tales From New Earth is a brand new set of adventures exploring the worlds of Doctor Who, inspired by the Ninth and Tenth Doctors' adventures in the episodes The End of The World, New Earth, and Gridlock.
In this new set of adventures, we'll encounter some familiar names, faces and species, and introduce a whole host of new characters and creatures in one of the most diverse Worlds of Doctor Who this universe has yet to see!
David Richardson, producer of the series, tells us more, "Russell T Davies created such a rich, fully-formed world in New Earth that it was ripe for its own spin-off series - and not only did Russell wholeheartedly approve of the idea, he generously gave us some very helpful suggestions and steers for certain characters…
Directed by Helen Goldwyn, script-edited by Matt Fitton, and produced by David Richardson, these four new adventures will see us explore the universe five billion years away, where only a Tardis could have reached before…
This new series includes four episodes:
1.1 Escape From New New York by Roy Gill
1.2 Death in the New Forest by Roland Moore
1.3 The Skies of New Earth by Paul Morris
1.4 The Cats of New Cairo by Matt Fitton
The cast for these adventures can be confirmed, including Novice Hame (now a Senator!) returning, played by Anna Hope, Sister Jara, the biological sister of Sister Jatt, played by Adjoa Andoh, and Yasmin Bannerman playing the sapling of her character Jabe from the second episode of Doctor Who. Sapling Vale is like her ancestor, strong-willed, fair minded and resourceful.
And joining these great characters will be Devon Pryce, played by Kieran Hodgson. This new character will soon to prove more than a match for the Cat-People, Tree-People and much more in Tales From New Earth!
"We've been lucky enough to have some brilliant guest stars join us on New Earth too," tells Helen Goldwyn, "Derek Griffiths (Xylem Maple Dorm); James Dreyfus (The Most Exalted High Persian); Julian Rhind-Tutt (Berkhoff) and Louise Gold (President Grosseteste) who, incidentally, has appeared as a voice artist in every Muppet Movie ever made!"
Scheduled for release in March 2018, you can pre-order Tales From New Earth from the Big Finish site at £23 on CD or £20 on download. Or you can pre-order Tales From New Earth in a bundle, with exciting upcoming releases Gallifrey Time War, and The War Master starring Sir Derek Jacobi! This bundle gives you all three releases for £54 on download or £63 on CD.