We love StoriesBig Finish produce great full-cast audio drama for CD and download, featuring many popular television fantasy series.
Coming Soon from the Worlds of Doctor Who
22 March 2016
The Doctor's not the only one who fights monsters. Check out our preview of this summer's Doctor Who spin-offs, available to pre-order today!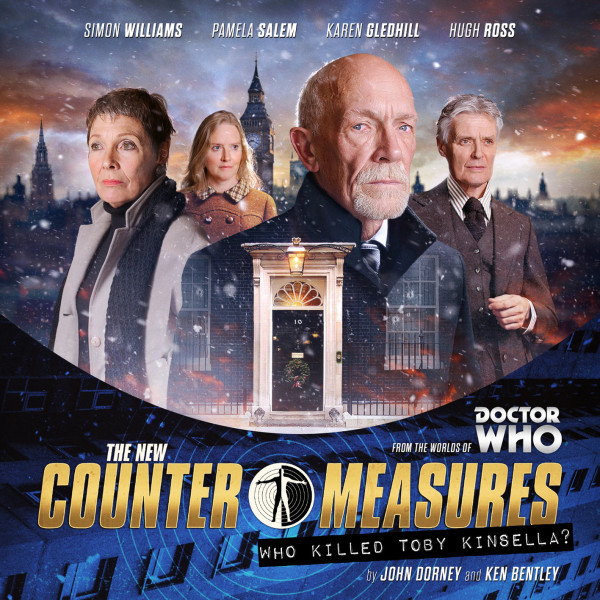 Since we began producing audio plays, Big Finish has taken delight in exploring the hidden corners of the Doctor Who universe; presenting stories outside of the TARDIS and focusing on the Doctor's friends, enemies and everyone inbetween!
From Dalek Empire and Sarah Jane Smith, all the way to the The Diary of River Song, we've packed our schedules with new spin-off adventures – and this summer, we'll be keeping up the tradition, with five new box-sets from the Worlds of Doctor Who!
In just a few weeks time, the Infernal Investigators Henry Gordon Jago (Christopher Benjamin) and Professor George Litefoot (Trevor Baxter) will return for four new mysteries on the streets of Victorian London. These beloved characters first appeared in the Fourth Doctor TV classic The Talons of Weng Chiang and have gone on to become Big Finish stalwarts, with their very own series of ongoing adventures.
Jago & Litefoot: Series 11 sees the detectives take on their most dangerous villain yet; as the Master (Geoffrey Beevers) prepares to strike against the city. It will take everything the friends have to repel this threat – with the Sixth Doctor (Colin Baker) rushing to his allies' aid.
Ten previous Jago & Litefoot box-sets are still available to order today, along with the special release Jago & Litefoot & Strax: The Haunting, uniting the pair with the Paternoster Gang's Sontaran butler Strax (Dan Starkey)
In May we have the return of a Big Finish classic. Originally released in 2005 and 2009, Cybermen is a political war-thriller depicting an invasion of Earth by the Cybermen, the classic Doctor Who monsters created by Kit Pedler and Gerry Davies.
Written by Nicholas Briggs and James Swallow, the entire series of eight episodes is available together for the first time in Cybermen: The Complete Series 1 & 2, available to pre-order today for £25 on CD or £20 to download. The new box-set will also contain a ninth disc of bonus content, including a new featurette specially produced for this release. As with most Big Finish titles, when you choose to buy this release on CD directly from Big Finish, you will also unlock instant access to a digital copy for download.
The new collection will be officially launched and available to buy from Big Finish at Tenth Planet's Day of the Cybermen event on May 14th 2016, celebrating 50 years of the classic monster. Click here for more information.
To mark the new release, the first episode of the series Cyberman: Scorpius has been made exclusively available to download for free to all Big Finish newsletter subscribers until May 31st 2016. The remaining parts of Series 1 have also been reduced to just £2.99 on CD and download while stocks last. The individual CDs will not be reprinted once sold out. A bundle of episodes 1.2-1.4 is also available, which includes free UK postage.
Following this re-release, another ongoing Big Finish saga continues in Gallifrey: Enemy Lines. Set on the Doctor's home planet, the series follows the political machinations of the Time Lords as they scheme to keep their power over space and time. The new three-disc release will see President Romana (Lalla Ward) face dangers from both past and future, when her presidency is threatened by the calculating Livia (Celia Imrie).
With the aid of Leela (Louise Jameson), Ace (Sophie Aldred), Narvin (Seán Carlsen) and Braxiatel (Miles Richardson), Romana must fight to stop a terrible fate befalling Gallifrey... before time runs out. You can pre-order your copy today for just £14.99 on CD or £12.99 to download.
In June, we head into the era of the New Series with the eagerly awaited release of UNIT: Shutdown. Continuing the battles of Kate Stewart (Jemma Redgrave), Osgood (Ingrid Oliver) and the UNIT team, this new box-set finds Earth under attack by the vicious hordes of the Tengobushi – alien ninjas in search of a powerful artefact.
While Lieutenant Sam Bishop (Warren Brown) and Captain Josh Carter (James Joyce) repel boarders, Kate investigates Felicity Lime (Alice Krige) and her paramilitary allies – whose latest business venture places the whole of humanity in jeopardy. You can pre-order this new release for just £20 today – with a bundle of all four UNIT: The New Series box-sets also available for just £80.
Last, but by no means least, July 2016 will see a new era begin in The New Counter-Measures Special: Who Killed Toby Kinsella? This gripping thriller continues the story of the Intrusion Counter-Measures Group, a government task force which first appeared in the classic Doctor Who story Remembrance of the Daleks.
Starring Simon Williams, Pamela Salem, Karen Gledhill and Hugh Ross, the two-disc special continues on from the shocking events of Counter-Measures: Series 4 and will be followed in December by The New Counter-Measures Series 1. You can pre-order both new releases today as part of a special money-saving bundle.
Stay up to date with all our new release from the Worlds of Doctor Who by subscribing to the Big Finish newsletter, liking our Facebook page and following us on Twitter.