We love StoriesBig Finish produce great full-cast audio drama for CD and download, featuring many popular television fantasy series.
Cover reveal: Colin Baker and the Second Doctor
8 July 2017
Coming soon to Big Finish, Colin Baker in the Main Range and the Second Doctor Early Adventures!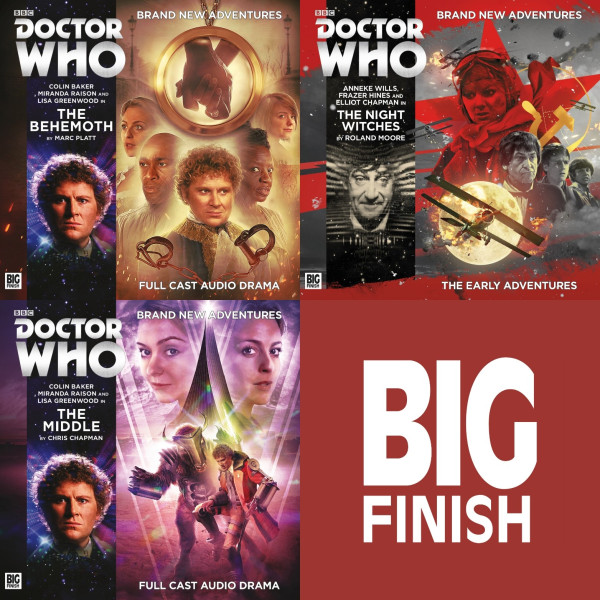 We can now reveal the covers for the upcoming releases in the Doctor Who Main Range, and one of our Doctor Who Early Adventures, The Night Witches.
Upcoming in the Main Range are tales The Behemoth and The Middle, Colin Baker's Sixth Doctor is travelling with two of his companions, Flip Jackson, played by Lisa Greenwood, and Constance Clarke, by Miranda Raison. They previously had all travelled together in the adventure Quicksilver, which was released in December last year.
The Behemoth is written by Marc Platt (who wrote the TV Doctor Who story Ghost Light, for the Seventh Doctor), directed by Jamie Anderson, and will be released in October this year. And The Middle is written by Chris Chapman, directed by Jamie Anderson, and is due for release in November.
We talked to designer Anthony Lamb about designing the cover art for The Middle, "I was so excited to read the script and learn that there was a fight between an armored bull-like warrior and The Doctor in an exo-suit. What more could you ask for to make a cover fun and exciting!? Making the scene was so much fun. I found a suitably crazy pose of Colin from The Twin Dilemma and constructed the various parts of the suit in CG. I didn't want to cover up too much of his iconic costume, so went for a minimal coverage aside from his forearms and lower legs. There's lots of stomping referenced in the script, so I thought some heavy-looking limbs together would fit the bill nicely."
Also, we can reveal the cover for the Doctor Who Early Adventures release, The Night Witches, out in Septemeber.
When the TARDIS materialises north of Stalingrad in 1942, the Doctor, Jamie, Ben and Polly are captured by the Night Witches, an all-female unit of flyers tasked with disrupting the German forces nearing Moscow.
They suspect that the travellers are spies - part of the Germans' Operation Barbarossa. Despite their pleas they are locked up while it is decided what to do with them.
Polly, however, is receiving strange looks from the pilots and clearly unnerving them. When the TARDIS crew discover why this, it becomes clear that they're about to get far more involved in the war than they could possibly have imagined.
Written by Roland Moore, directed by Helen Goldwyn and starring Anneke Wills as Polly, Frazer Hines as Jamie McCrimmon and The Doctor, Elliot Chapman as Ben and Anjella Mackintosh as Tatiana Kregki, Wanda Opalinska as Nadia Vasney and Kristina Buikaite as Lilya Grankin.
Keep checking the Big Finish website for more information on these upcoming exciting releases! Or follow us on Facebook, Twitter or Instagram!