For The Love Of StoriesBig Finish produce fantastic full-cast audio dramas for CD and download.
Dark Shadows - Blood and Fire: Scribe Award Winner!
27 July 2017
The Scribe Awards is pleased to announce a winner - Dark Shadows!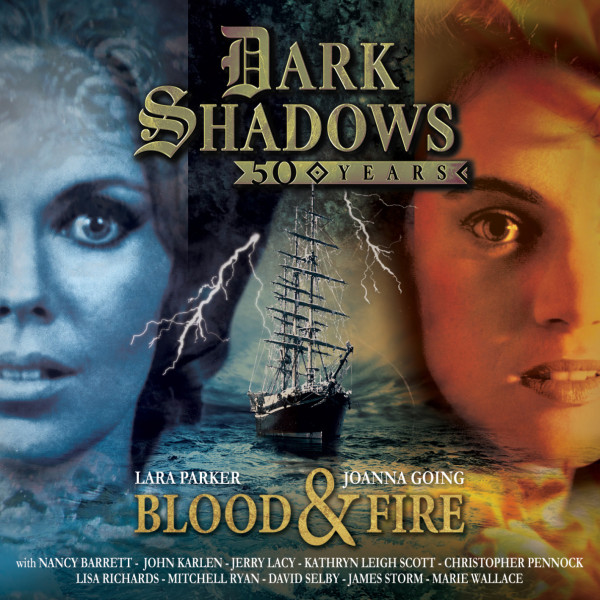 Announced today, Big Finish and Dark Shadows have won the Best Audio category in the 2017 Scribe Awards.
The winning entry was last year's two-disc epic celebration of Dark Shadows' 50th Anniversary, Blood and Fire, written by Roy Gill and starring Lara Parker, Kathryn Leigh Scott, Andrew Collins, David Selby and Jerry Lacy (among a host of other original cast members and Big Finish talent)!
"Some are born with magic, some acquire magic, and others have magic thrust upon them..."
The year is 1767. Young widow Laura Murdoch Stockbridge is to marry Joshua Collins, heir to the Collins fortune. Meanwhile, Joshua's sister Abigail is in love with disreputable sailor Abraham Harkaway.
But the course of true love never did run smooth… especially when the witch Angélique Bouchard is around.
For Angélique has been sent back in time. And she has one mission…
To destroy the Collins family forever.
Joe Lidster, the producer of the Dark Shadows releases, told us all about his reaction to the win, "The fiftieth anniversary of Dark Shadows was obviously something we had to celebrate. We wanted a story that would unite as many of the cast (including our new Big Finish regulars) as possible but I also wanted it to be a standalone special that anyone could listen to.
"Dark Shadows is a serial though - if often told out of order - so how to combine those two things? By utilising the two other aspects that make Dark Shadows more than just another soap opera - time travel and actors playing their own ancestors. I chose the year 1767 as it was an important year in the mythology of the series that the show never visited. I then said to Roy Gill "Send the witch Angelique back to 1767 to destroy the Collins family…".
"Roy's script is glorious. It manages to do everything an anniversary special should do - it's full of references to Dark Shadows mythology but it's also a glorious standalone adventure. It's brilliantly clever, funny, warm and scary - with a wedding, a funeral, a shipwreck, sexy pirates and, of course, marauding zombies. For me, it's the Dark Shadows movie."
"I'd been unsuccessfully trying to talk Joe into a Phoenix story for a couple of years, says producer Davy Darlington, "so it was great that Roy was keen on this too - not just a great idea, but something that harked back to the earliest days of the show. And as Joe says, we wanted as many of our regulars in as we could to play 'someone else' - such a staple of the programme's format, and one we'd only occasionally nodded towards thus far. The cast all rose to it superbly - Ursula Burton deserves kudos here for sure. I had the easier task of having a day or so in a studio with a handful of mates, Ursula had about ten of the TV stars to coordinate...
"The final jigsaw piece was our guest star - we'd run out of available stars from the original TV show but wanted a piece of casting that would really catch the eye and ear of the casual observer. I can no longer remember which of us came up with Joanna Going - star of the 1991 TV Dark Shadows remake - as a possibility, merely that it was a drunken Sunday evening when we concluded, 'well, we can only ask'. Jim Pierson approached her for us and she was delighted to be involved. We should get her back, actually...
"Closest thing to a regret? We never quite managed to arrange hearing Denise Nickerson's take on Bathia Mapes..."
Roy Gill, writer, told us all about creating this special release, "The 50th anniversary was an epic in more ways than one - a vast amount of Dark Shadows history to pay tribute to, a large cast of brilliant actors from all the incarnations of the show, and the chance to say something new about the very beginnings of the Collins saga. I was very keen to bring back Laura the Phoenix - it was the fiftieth anniversary of her character as well, after all. She's in there at the start of the fully-fledged supernatural happenings in the TV show, so it was great to explore how she came to Collinwood for the very first time…
"I'm so pleased and thrilled Blood & Fire has won the Scribe Award. It really was a labour of love and I know producers Joe Lidster and Davy Darlington went the extra mile behind-the-scenes to pull it all together in time for the fiftieth."
To celebrate, until Monday 31st July, at midday (UK time) you can buy Dark Shadows: Blood and Fire the fiftieth anniversary special, for £6.50 on Download or £7.50 on CD.
Check out the Scribe Awards, including the full list of previous winners (such as Doom Coalition story, the Red Lady, by John Dorney), here.