For The Love Of StoriesBig Finish produce fantastic full-cast audio dramas for CD and download.
4 November 2017
Kenny Smith, Vortex Editor, discovers what two popular Dark Shadows characters do when they're away from Collinwood†¦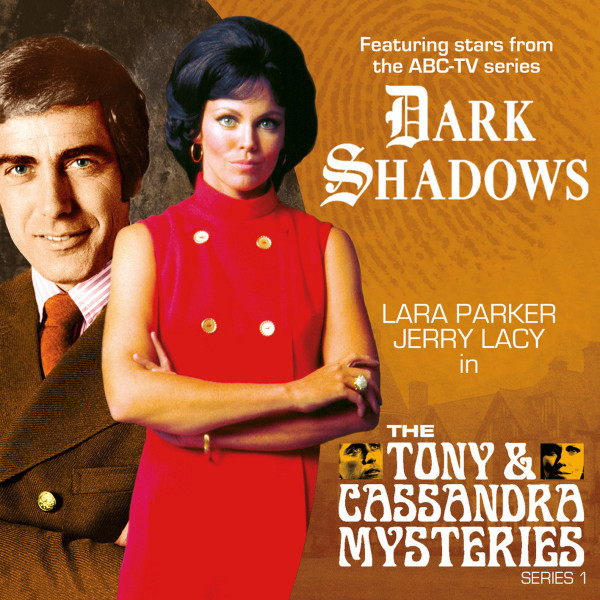 When a witch casts a spell on a private detective, the chemistry between the two is just magical…
That's the basic set up for Big Finish's first Dark Shadows spin-off series, The Tony & Cassandra Mysteries, starring Jerry Lacy as Tony Peterson, and Lara Parker as Cassandra.
Co-producer David Darlington said: "Joe (Lidster) and I had the idea of trying out a one or two-character mini-series already in the pipeline when I attended the Dark Shadows 50th anniversary event in New York last summer. At that point, Tony and Cassandra weren't necessarily first on the list for that approach, but it was noticeable that the question that arose time and time again from visitors to the Big Finish stall was, 'When are you going to do more with Tony and Cassandra?'. Jerry Lacy even started re-directing questions he was getting on the subject over to our desk!
"So it quickly became obvious what the next strand of story we should be looking into was… and it's been, by our standards, a very swift and reasonably painless process…"
The other co-producer Joseph Lidster adds: "As well as the audience wanting it, we ourselves wanted to try and do something a bit different. For the last few years, the Dark Shadows range has been mostly smaller plays in the dramatic readings range as well as the occasional full-cast serial like Kingdom of the Dead and Bloodlust.
"We wanted to try a few different things just to stop things getting stale. We came up with the idea of doing some short story collections and also some mini-series like The Tony & Cassandra Mysteries. This lets us mix things up. The short stories allow us to tell different kinds of stories as well as employ new writers; the mini-series allow us to focus on a couple of characters across four adventures and develop their stories further.
"Also, logistically, both are simpler to produce than the big full-cast audios meaning we can ensure there's always a new Dark Shadows release not too far away."
For those who don't know, how does it differ from the standard Dark Shadows series?
Joe explains: "Most Dark Shadows focus on a blend of gothic horror and romance. It's a soap opera with vampires, werewolves, ghosts, time travel and parallel universes. Tony and Cassandra – in all their previous stories – have been unashamedly set in the 1970s as a bickering couple who are clearly madly in love with each other. I was genuinely surprised at how popular their previous stories were. I knew they were brilliant but they really do have a different feel to the rest of the range. They've always felt, to me, like a spin-off from Dark Shadows and this series is allowing us to push that even more."
David adds: "We've had fun with the design and the approach in general, actually, more explicitly turning it into a spin-off programme – like Rhoda or Mork & Mindy! I think we had to make sure this series was 'fun', if you like, as well as having the usual Dark Shadows spookiness, romance and tragedy. I think Tony & Cassandra has a slightly lighter heart than our usual fare. Surrounded by ghosts and death and misery, of course – but lighter. A bit."
So, for those not in the know, how would the producers sum up the leading man and lady?
Joe explained: "It's dead simple. She's a 300 year old witch who's basically lost everything in life. He's a private detective. She once hypnotised him and made him her pawn – so there's always an animosity there, but what's really lovely is how they bounce off each other and also how they influence each other. Tony, in the original Dark Shadows series, was always very tough-talking but there was an innocence to him – he was a real idealist, trying to get rights and compensation for the poor. Cassandra lost her innocence centuries ago.
"By the time of The Tony & Cassandra Mysteries, their roles have reversed. He's still doing his best but there's a sense of him having lost his joy and idealism. Cassandra, on the other hand, having lost everything, now has this sense of wonder – as if she's seeing the world for the first time.
"There's a gorgeous scene in one of these stories where she sees an old theatre and is struck by how beautiful it is – which is certainly not something you can imagine happening in the original series. So this is a set of stories about two quite broken people who, at first, really don't like each other but who over time discover that they're fixing each other."
David says: "It all knits together really well – we've got one additional recurring character, Rita, who's Tony's secretary – we'd established in an earlier audio that he had a secretary who we never actually met – and we're delighted we were able to get in Julia Duffy to play her. Julia is Jerry Lacy's wife – not that he was looking for a nepotistic favour, it was my idea! Julia is a massively experienced comic actor – I mainly know her from her episode of Cheers, but she was a regular in Newhart, for which she won a couple of Emmy awards, among other things, and she's a wonderful new voice for us in this."
And plans are already in hand for a second series.
Joe explains: "We've already discussed plans for a second series including giving Cassandra an apartment and something she's never really had before – a female friend! There are so many more mysteries for the witch and the private detective to solve so we really hope the audience want more!"
David concludes: "We hope you do! You can definitely expect something more – and we've a few recordings partly in the can already…"
You can get The Tony & Cassandra Mysteries from the Big Finish website at £30 on CD or £25 on download.
Or you can get The Tony & Cassandra Collection, which features all the earlier stories of the dynamic duo together, for £25 on download.