For The Love Of StoriesBig Finish produce fantastic full-cast audio dramas for CD and download.
Dark Shadows: Maggie & Quentin
13 November 2017
Coming out next in the Dark Shadows range, Maggie & Quentin: The Lovers' Refrain brings two popular characters together for this new collection of tales.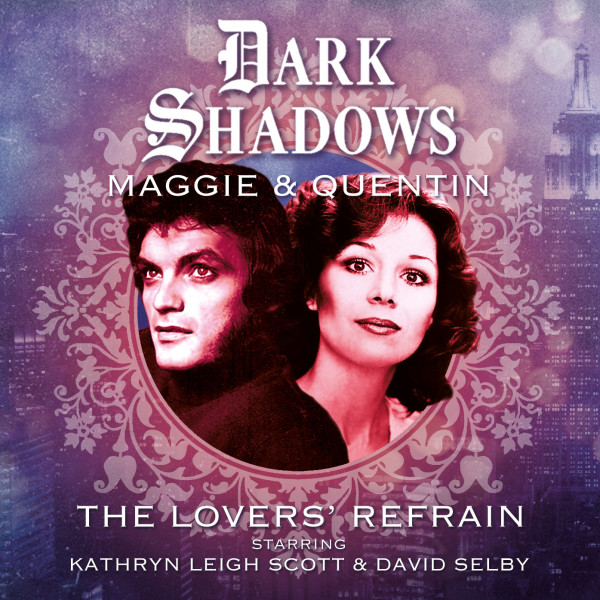 Out in June 2018, Maggie & Quentin: The Lovers' Refrain brings Quentin Collins, played by David Selby, together with Maggie Evans, played by Kathryn Leigh Scott.
"A couple of years ago, Kathryn Leigh Scott came over to London and we met up with her for a drink and a chat," says Dark Shadows co-producer David Darlington. "One of the ideas she suggested was a series of stories featuring Maggie alongside David Selby's character Quentin Collins."
"While the idea appealed greatly," says co-producer Joseph Lidster, "there didn't seem to be a natural fit for stories featuring the pair. That's until we remembered that Maggie and Quentin have become a couple by the time of the 2003 play Return to Collinwood. For those unfamiliar with that title, it started life as a stage performance at a Dark Shadows Festival event; the first proper return to their TV characters for many of the leading Dark Shadows regulars, and it pre-dates the Big Finish production run by a number of years."
This collection of four stories will explore the relationship between the two characters, as well as bringing a traditional taste of Dark Shadows terror.
The first story in the collection is The Girl Beneath the Water by Lila Whelan, who previously wrote 1:53 am. Next comes The Sand That Speaks His Name by popular Dark Shadows writer Mark Thomas Passmore. The third story in the collection is The Hollow Winds That Beckon by returning writer Cody Schell, and the series finale, The Paper to the Flame, is by Alan Flanagan.
"Maggie and Quentin are such iconic characters in Dark Shadows and this series allows us to explore who they are far more than we've ever had the chance to before," continues Joseph Lidster. "While the series still has the thrills and scares you'd expect from Dark Shadows, Maggie & Quentin: The Lovers' Refrain is all about the love between the two main characters. It's really something very beautiful."
The series also features the return of Brendan O'Rourke as Doctor Hilary Cooper. First mentioned in Return to Collinwood, the character then appeared in the 2017 short story Cobwebs and may be returning soon elsewhere…
The Lovers' Refrain, available to pre-order now, will be released in June 2018. Get it on CD at £30 or £25 on download.
And keep checking the Big Finish website as further details of the next 13-episode serial Dark Shadows: Bloodline will be revealed soon.
And for a behind the scenes look at the latest Dark Shadows tale, The Tony & Cassandra Mysteries, head over to Soundcloud where Robert Dick interviews the cast and crew in an hour-long exclusive special -> https://soundcloud.com/darkshadowsbfp/the-tony-cassandra-mysteries-writers-and-actors-interview