For The Love Of StoriesBig Finish produce fantastic full-cast audio dramas for CD and download.
Doctor Who - Series 10 Special Offer Finale week 12
1 July 2017
For the finale of Doctor Who on BBC1, this weekend we have offers on stories on each Doctor...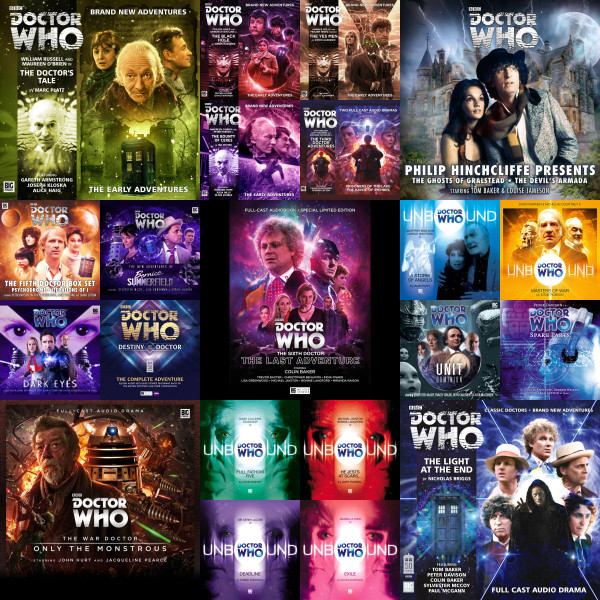 With the return of the Mondasian Cybermen this week, we have Spare Parts at 99p, so you have the chance to hear the origins of the Cybermen! This story, written by Marc Platt, and starring Peter Davison and Sarah Sutton, tells the story of how the Mondasian Cybermen came to be.
And, as Peter Capaldi's final season as the Doctor wraps up, we have offers on many of our other most significant Doctor Who stories.
For fans of William Hartnell and Patrick Troughton, we have offers on series 1 and 2 of Doctor Who - The Early Adventures. Starring members of the original cast, such as Carole Ann Ford, Frazer Hines, Peter Purves, and Jean Marsh, you can pick up each of these release for £5 on download or £6 on CD. Or together, you can get them as a bundle. Series 1 or Series 2 is available at £18 on download or £24 on CD.
Jon Pertwee fans can get The Third Doctor Adventures Volume 1, which stars Katy Manning, Richard Franklin, and Tim Treloar's truly captivating performance of The Doctor, at £15 on download or £22.50 on CD.
Or if you enjoyed Tom Baker and Louise Jameson in Doctor Who, you can journey back to 1975 and try new stories for the Fourth Doctor and Leela in Philip Hincliffe Presents.. Volume 1 (available at £18 download or £22 CD).
For Peter Davison fans, we have the Fifth Doctor boxset available at £18 on download or £20 on CD.
And if you wanted to find out what happened to Colin Baker's Sixth Doctor after the famous season of Doctor Who, Trial of a Time Lord, pick up the Deluxe boxset of The Last Adventure, a heroic exit for this Doctor.
Catch the Seventh Doctor, Sylvester McCoy, and one of his longest running companions, Bernice Summerfield, played by Lisa Bowerman, in The New Adventures of Bernice Summerfield, Volume 1, available for £15 on download or £18 on CD. Or you can get UNIT: Dominion at £20 on download or £25 on CD, inlcuding a very new Doctor…
You can get Paul McGann in the first of the Eighth Doctor's critically acclaimed series of stories: Dark Eyes. This release was winner of the Best Online Drama in the BBC Drama Awards, 2014!
The Doctor is looking for hope. But instead, he finds himself on a mission. The Time Lords have uncovered terrifying fragments of an insane plot to destroy the universe. And somehow, at the centre of that plot is one, random female in Earth's history, Molly O'Sullivan.
Soon, the Doctor and Molly find themselves thrown headlong into a series of dangerous and terrifying adventures, with the dreaded Daleks never far behind them.
Dark Eyes is available at £23 on CD or £20 on download, or you can get all four releases of Dark Eyes as a bundle at £80 on CD or download.
And starring the late Sir John Hurt, there's also Volume 1 of The War Doctor - Only the Monstrous.
With the Time War raging between the Time Lords and the Daleks, enveloping all of time and space in the conflict, the Doctor knew he could stand on the sidelines no more. To that end, he renounced his name and pledged to do what was necessary to bring about peace.
Only the Monstrous is available for £20 on download or £23 on CD or you can get all the War Doctor boxsets as a bundle at £80 on CD or download.
Can't decide on which Doctor? Try them all with Destiny of The Doctor! Originally created to mark the 50th anniversary of Doctor Who, Big Finish Productions produced a special range of audiobook titles, each focusing on one of the eleven Doctors. They are collected together here in a new set, telling the complete story. This is available at £20 on Download, or £30 for the complete adventure on CD.
Or we have The Light at the End, written and directed by Nicholas Briggs!
November 23rd 1963 proves to be a significant day in the lives of all eight Doctors… It's the day that Bob Dovie's life is ripped apart…
It's also a day that sets in motion a catastrophic chain of events which forces the first eight incarnations of the Doctor to fight for their very existence. As a mysterious, insidious chaos unfolds within the TARDIS, the barriers of time break apart…
From suburban England through war-torn alien landscapes and into a deadly, artificial dimension, all these Doctors and their companions must struggle against the power of an unfathomable, alien technology.
From the very beginning, it is clear that the Master is somehow involved. By the end, for the Doctors, there may only be darkness.
You can get the standard edition at £5 on download or £6 on CD, or this Limited Edition boxset, inlcuding an exclusive copy of The Revenants, two documentaries and an array of professional photos, for £25 on CD!
Or try a very different Doctor! Doctor Who - Unbound poses the question - what if?
With an array of different Doctors, such as Sir Derek Jacobi, David Warner and the late Geoffrey Bayldon, try an alternative universe Doctor! You can try releases 1 - 8 of the Unbound universe for £2.50 on download or £3.50 each, or as a bundle, £18 on download or £24. Bernice Summerfield jumps into the Unbound universe in The New Adventures of Bernice Summerfield Volume 3: The Unbound Universe, which is now available at £15 on Download or £18 on CD.
All these releases above (including the Light at the End Limited Edition) are available together as a bundle at £240 on download or £300 on CD. The CD purchases all unlock an online download, which works perfectly with the Big Finish app. Have a browse through the Big Finish Bargains range, showing everything with a discounted price at present.
All these offers end on Wednesday 5th July at midday, so enjoy them whilst they last! And don't forget that any CD purchase unlocks a Download version exclusive to your Big Finish account - the perfect thing for anyone using the free Big Finish listening app on Apple or Android devices!