We love StoriesBig Finish produce great full-cast audio drama for CD and download, featuring many popular television fantasy series.
Doctor Who - Series 10 Special Offer Week 10
17 June 2017
As Doctor Who episode The Eaters of Light transmits on our TV screens, we have some offers with some of our Scottish Big Finish releases†¦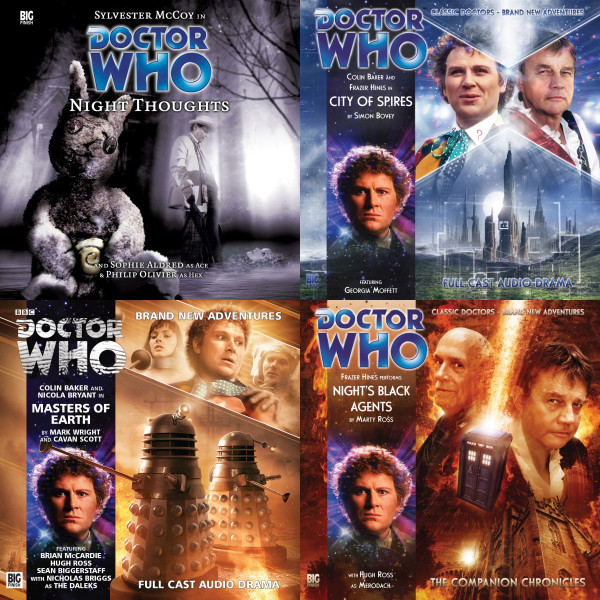 Try some of our earlier Doctor Who main range releases after this week's episode, each with a distinct Hebridean flavour.
If you enjoyed Hex in Shadow Planet / World Apart that was released this week, tune into Night Thoughts, a story that stars Sylvester McCoy, Sophie Aldred and Philip Olivier, in Sylvester's home country of Scotland.
A remote Scottish mansion. Five bickering academics are haunted by ghosts from their past. Reluctantly they offer shelter to the Doctor and his companions Ace and Hex.
Hex, already troubled by a vivid nightmare, is further disturbed by the nighttime appearance of a whistling, hooded apparition.
Ace tries to befriend the young housemaid, Sue. Sue knows secrets. She knows why the academics have assembled here, and she knows why they are all so afraid. But Sue's lips are sealed, preferring to communicate through her disturbing toy, Happy the Rabbit.
And then the killing begins. Gruesome deaths that lead the Doctor and his friends to discover the grisly truth behind the academics' plans, and ­ as the ghosts of the past become ghosts of the present ­ to recognise that sometimes death can be preferable to life.
What would be a Scottish Doctor Who special without Jamie McCrimmon? Colin Baker is joined by Frazer Hines and Peter Davison's daughter, Georgia Moffett, in City of Spires.
Arriving in a hail of musket fire, the Doctor unexpectedly finds himself in the highlands of Scotland, where the ruthless Black Donald and his band of rebels are fighting the Redcoats. But the highland warriors no longer fight for the Jacobite cause and the English officers answer only to the mysterious Overlord. What has happened to Scotland and why are its moors littered with advanced, oil-pumping technology?
Reunited with his faithful companion Jamie McCrimmon, the Doctor must venture into the sinister City of Spires to find the answers. But standing in his way is the deadly Red Cap…
Colin Baker is joined by Nicola Bryant as Peri in Masters of Earth, where the Doctor is powerless to prevent the Daleks without destroying time itself...
The TARDIS brings the Doctor and Peri to Scotland - enslaved, like everywhere else on the planet. But there are rumours of Dalek-free islands off its coast. Places where resistors and refuseniks are coming together, gathering arms and armour, preparing to strike back against the enemy.
When the Doctor falls in with an unlikely group of freedom fighters making that dangerous journey to Orkney, he finds himself trapped - but not only by the Daleks, their robotised henchmen and their human collaborators.
By history. Because history shows that for another year, resistance is useless... The rebellion must fail - and as a Time Lord, the Doctor can do nothing to help
Listen to the trailer below, or try part 1 of this release for free here.
And Frazer Hines is rejoined by the Sixth Doctor, in a Companion Chronicle scripted by Scottish writer Marty Ross, Night's Black Agents.
Jamie McCrimmon and his new friend the Sixth Doctor are lost on the moors of Scotland, where the legendary Kelpie roam...
They are offered shelter by the Reverend Merodach, the minister of the parish of Lammermoor, and are welcomed to his castle. But strange forces are at work within its walls, and Merodach is not what he appears.
Can the Doctor and Jamie prevent their powerful enemy from taking the TARDIS for himself?
Night Thoughts, City of Spires and Masters of Earth are each available for £6 on CD or £5 on download, and Night's Black Agents is available as £5 on CD or £4 as a Download. Or you can pick up all these week's offers as a Bundle at £23 on CD or £19 as a Download. The offers only last until midday Monday, so move quickly!