226. Shadow Planet / World Apart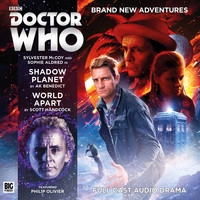 Released June


Prices
| | |
| --- | --- |
| CD | US $19.52 |
| Download | US $12.99 |

Synopsis
This title was released in June 2017. It will be exclusively available to buy from the BF website until July 31st 2017, and on general sale after this date.
"Shadow Planet and World Apart have a nostalgic feel that harks back to the late eighties era of the Seventh Doctor's adventures. And both are exemplarily performed by a stellar cast that revolves around, feeds off and draws its energy from the core triumvirate of the always excellent Sophie Aldred, Philip Olivier and Sylvester McCoy. " Mass Movement
"World Apart really challenges the relationship between the doctor and his companions to the extent I've rarely seen in doctor who stories - Really making me question if the doctor was ever forgiven?" The Host Productions
"Sound design by Steve Foxon is top notch but it's Foxon's Music that makes everything work. It's pure 80's at its most electronic and entrancing. Part Doctor Who part Vangelis this music is moody, atmospheric and steals the show. " Blogtor Who
"These are both really well written, well performed & well directed stories (Director Ken Bentley). I also very much enjoy the musical feel created by Steve Foxon that took me right back to the 7th Doctors time. It's nice to go have the 2 stories continue on from each other, draw a couple of parallels but feel like their own story. " Indie Mac User
Shadow Planet by AK Benedict
Troubled? Anxious? Tormented by self-doubt? Come to Unity, the psychic planet! From our therapy centre beside Unity's idyllic shores, the Unity Corporation can help you overcome all your problems. How? By using a patented combination of technology and Jungian psychology, we can bring you face to face with your shadow self. The hidden you. The dark you. The you that no-one knows…

Rest assured: the process is perfectly safe. Nothing can possibly go wrong. And that's guaranteed!
World Apart by Scott Handcock
If you're reading this, it's too late.

There's no way off this planet.

You will never escape Nirvana.
Written By: AK Benedict, Scott Handcock
Directed By: Ken Bentley
Cast
Sylvester McCoy(The Doctor), Sophie Aldred (Ace), Philip Olivier (Hex), Belinda Lang (Mrs Wheeler), Sarah Thom (Sandy/Captain Karren), Nickolas Grace (Professor Grove), Ben Mansfield (Loglan/Shadow Loglan). Other parts played by members of the cast.
Producer David Richardson
Script Editor Alan Barnes
Executive Producers Jason Haigh-Ellery and Nicholas Briggs