For The Love Of StoriesBig Finish produce fantastic full-cast audio dramas for CD and download.
Doctor Who - War Doctor 4 Details
16 December 2016
What will be the Casualties of War? Find out in Doctor Who - War Doctor 4, coming soon...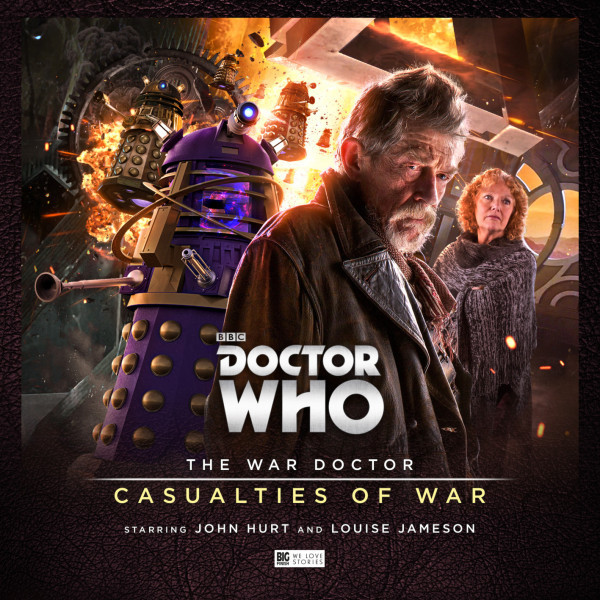 The War Doctor will return in February 2017 for Doctor Who - The War Doctor: Casualties of War, and this time a figure from his past has come back to confront him. Leela, warrior of the Sevateem, will meet the warrior of the Time War. And she may not like what she finds…
'The idea of having John Hurt and Louise Jameson performing in this fourth set of War Doctor stories was irresistible,' says producer David Richardson. 'They are two of my favourite actors, so to have them firing off each other in some brilliant scripts was wonderful to watch. During one take, everyone in the control room was left in floods of tears. While this isn't the Doctor that we're used to, neither is Leela the woman we once knew…'
'We've got great variety across the three stories,' adds script editor Matt Fitton. 'At the start, the Doctor and Cardinal Ollistra have been thrown together by circumstances and there's a lovely exploration of their spiky relationship as they try to escape their predicament. There's real emotional heart to the reunion with Leela, followed by an epic confrontation in a pivotal battle in the Time War as we reach the finale.'
Casualties of War comprises three full-cast audio dramas, in which the War Doctor and Ollistra (Jacqueline Pearce) are stranded far from their Time Lord forces, with Daleks closing in, destroying all that stands between them. They must call on the help of new friends and old to fight their way back to the front lines.
In Pretty Lies by Guy Adams, a war reporter named Schandel may provide the key to their escape, but it is often said that the first casualty of war is the truth. When the choice between grim reality and a hero's story means life or death, will the Doctor allow Schandel to print the legend? Joe Kloska plays Schandel, Mark Elstob is Editor, while Julia Hills plays Sera.
'It's all about heroes in a way,' says Guy. 'John Hurt is certainly one of mine. As far as the War Doctor is concerned though, he doesn't believe he should be described as one. But what do others think? And what makes them think it? The things he's done? Or the stories they've been told about him?'
The Lady of Obsidian by Andrew Smith sees the return of Leela, as the Doctor seeks help from a shadowy guerrilla force when a Dalek Strike Fleet heads to destroy another defenceless world. Lizzie Roper guest stars as Rosata Laxter, while Chris Porter is Skaul.
Finally in The Enigma Dimension by Nicholas Briggs, the Dalek Time Strategist has a new plan to ensure final victory in the Time War. As its forces gather for a huge assault on the enemy, ahead of the fleet something hovers above the planet of the Time Lords. And on Gallifrey itself, shadows move among the Cloisters.
As Nick explains: 'My intention with this story was to do something a little unexpected. As the final instalment, surely, you might think, it should be a gigantic battle, a real showdown. But I wanted to reduce to something really rather personal and very disconcerting. Stand by to be boggled.'
Doctor Who - The Time War Saga bundles are available on Download and CD at £100 for either format, collecting together all four of the War Doctor sets as well as next year's Doctor Who - The Eighth Doctor: The Time War release. Doctor Who - The War Doctor 4: Casualties of War can be pre-ordered for £20 and is released in February 2017, while the other releases in the range, already available, can be found here.