We love StoriesBig Finish produce great full-cast audio drama for CD and download, featuring many popular television fantasy series.
Doctor Who: A Masterful Performance - Special Offers on the Master!
22 April 2016
The Two Masters trilogy has begun! And to celebrate, this weekend you can save on a massive range of Big Finish titles, featuring the actors behind Gallifrey's most notorious renegade...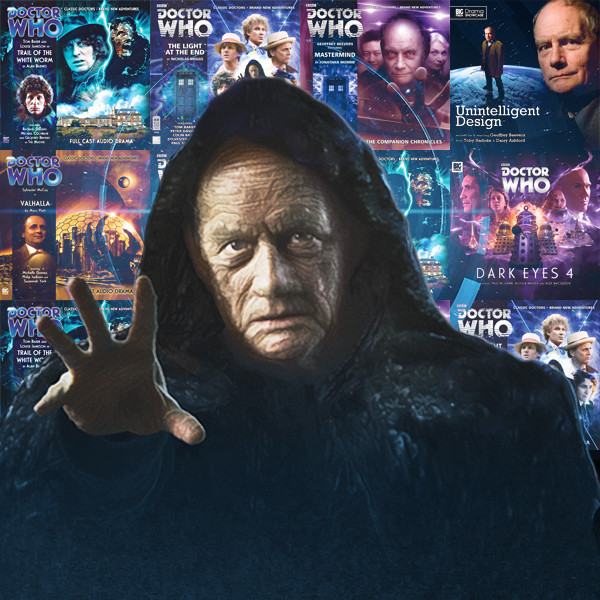 It's been 45 years since Roger Delgado stepped out of his horsebox to wage his vendetta against the Doctor; and this year, Big Finish is celebrating the classic Time Lord with a brand new trilogy of releases, featuring Geoffrey Beevers and Alex Macqueen. The action begins in Doctor Who: And You Will Obey Me (available to buy and download today), before continuing in May's Doctor Who: Vampire of the Mind and concluding with Doctor Who: The Two Masters; when the Master's ultimate scheme comes to fruition.
To mark the occasion, we're running a weekend of special offers featuring these two brilliant actors – alongside selected appearances from their television counterparts!
Geoffrey brought his Master to Big Finish for the first time in 2001 in the terrifying Doctor Who: Dust Breeding, before reprising the role in the 40th anniversary audio drama Doctor Who: Master. Both of these stories are available at the permanently reduced price of just £2.99, alongside 48 other early Doctor Who Main Range titles.
Geoffrey's decayed Master then continues his reign of terror across space and time, returning to face the Fourth Doctor (Tom Baker) in Doctor Who: Trail of the White Worm and Doctor Who: The Oseidon Adventure, then terrorising Leela (Louise Jameson) in Doctor Who: The Evil One. All three of these Fourth Doctor Adventures are available this weekend for just £5 each on both CD and to download. Geoffrey also appears in the Series 4 stories Doctor Who: Requiem for the Rocket Men and Doctor Who: Death Match.
Doctor Who: Mastermind finds the Time Lord imprisoned by UNIT's Vault team, forced to recount his crimes from a century being trapped on Earth. But his greatest master plan to date can be heard in Doctor Who: The Light at the End, featuring Tom Baker, Peter Davison, Colin Baker, Sylvester McCoy and Paul McGann, plus a host of their companions. The standard edition of the 50th anniversary special and the classic Companion Chronicles are also available for £5 each today.
Geoffrey's Master will return on Thursday the 28th of April in Jago & Litefoot: Series 11 – but you can hear more of his work across other Big Finish ranges. Gallifrey: Series 4 (available for just £20 on both CD and to download) sees Geoffrey take on the role of alternative Gallifrey President Lord Prydon, while Bernice Summerfield: Missing Persons finds him as royal chamberlain Meriol. You can pick up this five-story set for just £15 on both CD and download this weekend.
Away from the Doctor Who Universe, Geoffrey also features in Drama Showcase: Unintelligent Design as a tortured university professor; available for only £5 on CD or £2.99 to download. He also stars as Alphonse Frankenstein in our full-cast adaptation Frankenstein: The Modern Prometheus, alongside Arthur Darvill, Nicholas Briggs, Georgia Moffat and Terry Molloy. You can pick up this 5-disc release for just £15 on both CD and to download. A special podcast interview with Geoffrey can also be heard in Toby Hadoke's Who's Round #151, available to download for free.
Next we turn our attention to Alex Macqueen's psychotic incarnation, who first terrorised the Seventh Doctor (Sylvester McCoy) in UNIT: Dominion, before campaigning against the Eighth Doctor (Paul McGann) in Doctor Who: Dark Eyes 2, Doctor Who: Dark Eyes 3 and Doctor Who: Dark Eyes 4. Each of these four-part box-sets can be yours for just £20 each this weekend, with a bundle of all four Dark Eyes releases available for £80. Alex also appears as Gabriel in Doctor Who: Paradise 5, available for just £5 on both CD and to download.
As an extra special treat, we're also reducing selected title featuring other Master actors from the screen, and beyond: The Martian Chronicles star and Professor Yana himself Derek Jacobi made his debut Doctor Who appearance for Big Finish in Doctor Who Unbound: Deadline, just £5 on CD and £2.99 to download; Michelle Gomez is pre-Missy busybody Jevvan in Doctor Who: Valhalla; and David Garfield portrays the mysterious Professor Stream in Doctor Who: The Hollows of Time – both only £5 on CD and to download this weekend.
For the ultimate selection of Big Finish Master-pieces, you can pick up all our special offer titles in the Doctor Who – A Masterful Performance bundle, for just £275 on CD (with free UK postage) or £260 to download. These offers end at noon Monday April 25th (UK time) so order now!