For The Love Of StoriesBig Finish produce fantastic full-cast audio dramas for CD and download.
Doctor Who - The Dispossessed
11 September 2018
The latest story in the Doctor Who Main Range is out today. The Dispossessed is the second release in a Seventh Doctor trilogy, and in this adventure there's another twist in time for the TARDIS team to deal with, but will both Mel (Bonnie Langford) and Ace (Sophie Aldred) survive?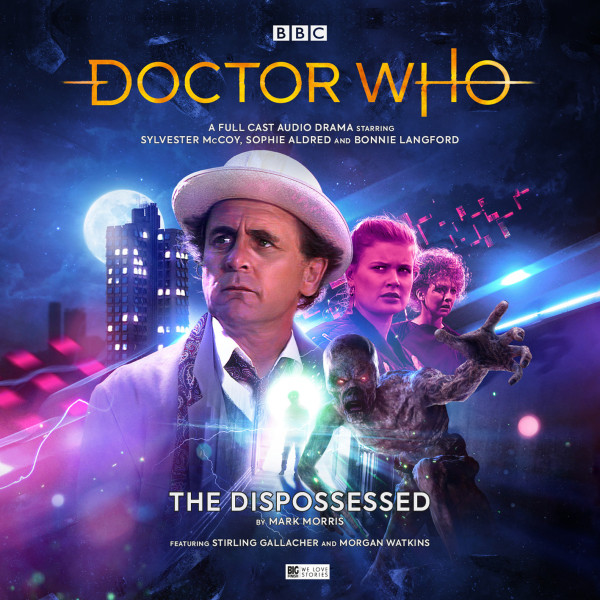 Doctor Who – The Dispossessed is out now.
The Doctor, Ace and Mel are caught in a forever night. After crossing the threshold, a strange world awaits them. An army of tortured souls. A lift that leads to an alien landscape. An alien warlord, left for dead, and willing to do anything to prolong his life… it's all in a day's work for the Doctor.
But when his companions become victims of the desperate and powerful Arkallax, the Doctor will have to do battle in a psychic environment where he must make a choice.
Save his companions… or himself.
Mark Morris, writer of this tale, told us more about its origins: "As often happens with Big Finish submissions, this story changed hugely from first concept to final script. Originally it was a fairly rural story about a giant worm, but it went through such a huge process of evolution that eventually it became something completely different, with only the kernel of the original idea remaining intact.
"The story as it eventually appeared was perhaps most prominently influenced by a horror film called CITADEL that I actually didn't like all that much, but whose imagery and central theme – that of urban deprivation creating a sort of feral substrata of society that in the movie is depicted as a gang of vicious supernatural beings – stuck with me. I liked the idea of a dark, monolithic tower block sitting in the middle of a sea of rubble. I liked the idea of creating a sense of pervading threat, or even evil, and of the Doctor and his friends being drawn in, like flies into a spider's web.
"I've also always liked Doctor Who stories that suddenly flip over from one thing into another – The Stones of Blood being an obvious example. Admittedly it's a device I've used before when writing Doctor Who fiction, but it's always effective, not to mention the fact that there are multiple variations on the theme, so I had no qualms about employing that device again here."
The Dispossessed is available now at £14.99 on CD or £12.99 on download. All CD purchases unlock a download option via the Big Finish app and the Big Finish website.
Or you can save money by getting a subscription to the Doctor Who Main Range. When you subscribe you'll get 30% off the price, free specially recorded Short Trips stories, PDFs of the scripts, and extended downloadable extras. You can subscribe for either 6 or 12 releases.
Coming out next month in the Doctor Who Main Range is The Quantum Possibility Engine by Guy Adams. Narvin and the Time Lords are forced to rely on the Doctor once more to defeat one of the biggest threats to the web of time – the new President of the Solar System, Josiah W Dogbolter…
The Doctor and Ace are locked up. The TARDIS is gone. Things just couldn't get worse, could they?
Of course they could. Things can always get worse – the new President of the Solar System, Josiah W Dogbolter, didn't get where he is in life without learning that. That's why he has a Quantum Possibility Engine. It's a wonderful machine, creating a wonderful Solar System. And with this wonderful device, he can bring happiness and peace to all.
Possibly.
Either that or tear the universe to shreds, it's hard to be sure which.