For The Love Of StoriesBig Finish produce fantastic full-cast audio dramas for CD and download.
Doctor Who – The Lost Stories - The Ark is out now
8 June 2023
A new take on an old classic is released today, as Tom Baker stars in Doctor Who – The Lost Stories: The Ark.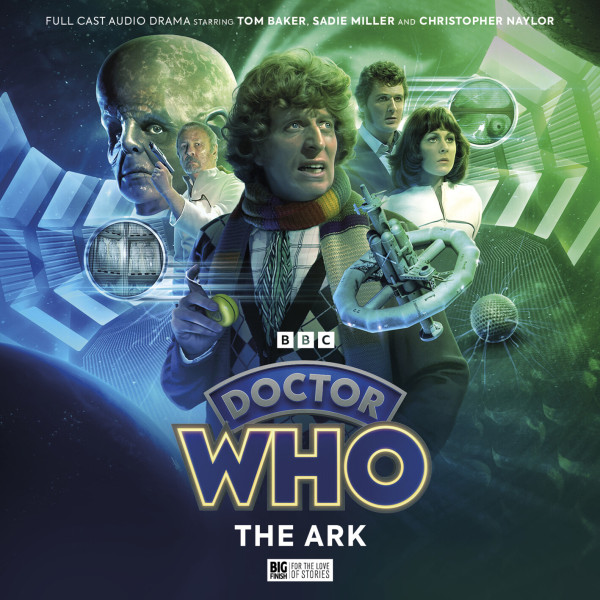 Originally scripted in 1975 for Tom Baker's debut season as the Fourth Doctor, John Lucarotti's first drafts of what became the television serial The Ark in Space are now brought to life as a brand-new full-cast audio drama.
This adaptation by Jonathan Morris remains true to the writer's original vision and excludes elements such as the Wirrn that were added by Doctor Who's then script editor, Robert Holmes.
Joining Tom Baker as the Fourth Doctor in this four-part adventure are Sadie Miller (playing Sarah Jane Smith), Christopher Naylor (playing Harry Sullivan), Terry Molloy (as Noah) and Yasmin Mwanza (as Viva).
Doctor Who – The Lost Stories: The Ark is now available to own as a collector's edition two-disc box set (on CD + download at £14.99) and as a digital download (at £12.99), exclusively here.
A space station orbiting Earth has lain dormant for 8,476 years. Its systems are clogged with dust, so the human crew kept frozen in cryogenic storage have never woken up.
When the Doctor, Sarah and Harry arrive to resuscitate the sleepers, they discover something else on board. A small, golf-ball like object gives Harry an electric shock, and has a more sinister impact on the awakening crew. Soon, the Doctor and his friends are battling to save the space station – and Earth – from a ravenous puffball!
Writer Jonathan Morris said: "What I found most interesting about the script was that it was written at a point when the show's producers didn't know whether or not the Doctor would be a man of action, and so they included Harry Sullivan to get into fights and so on.
"And this script is from a very specific point in time; it's written to a different format to the one that ended up on screen, being much more like how it was in the 1960s with the First Doctor and Ian, or the First Doctor and Steven. The Doctor is written as a Hartnell-type figure, tinkering with electronics, and being cryptic and absent-minded, while Harry is the one who does a spacewalk and gets into punch-ups. It's very interesting as a piece of Doctor Who archaeology!"
Producer Simon Guerrier added: "Two things really struck me. Firstly, I'd expected this first draft to be awful and assumed that was why it got extensively reworked. In fact, a lot of what made it to the screen is here, and there are lots of good ideas and dramatic moments including an amazing cliffhanger. It's a good story, worth telling. I think that then new producer Philip Hinchcliffe and script editor Robert Holmes were ambitious to make it much more. So reading the script and working on this adaptation have been really revealing about what the two of them brought to Doctor Who.
"Secondly, it's clearly not written for Tom Baker's Doctor as we know him. This is a different, more cerebral, less action-oriented character, one who comes to the Ark on purpose as a sort of benign custodian of humanity. I think Tom was really taken by that too, and wanted to play the Doctor differently. So I got an insight into his working methods and his contribution to the Fourth Doctor. I thought I knew The Ark in Space really well but working on this story has really opened it up. I hope that's what listeners will get from it too."
Big Finish listeners can save money by purchasing a bundle of both The Lost Stories, The Ark and Daleks! Genesis of Terror, for £28 (collector's edition CD + download) or £25 (digital download only).
Big Finish is currently operating a digital-first release schedule. The mail-out of collector's edition CDs may be delayed due to factors beyond our control, but all purchases of this release unlock a digital copy that can be immediately downloaded or played on the Big Finish app from the release date.