We love StoriesBig Finish produce great full-cast audio drama for CD and download, featuring many popular television fantasy series.
Doctor Who - The Morton Legacy
16 November 2017
We're going back in time in The Early Adventures with a new story starring Anneke Wills, Frazer Hines and Elliot Chapman.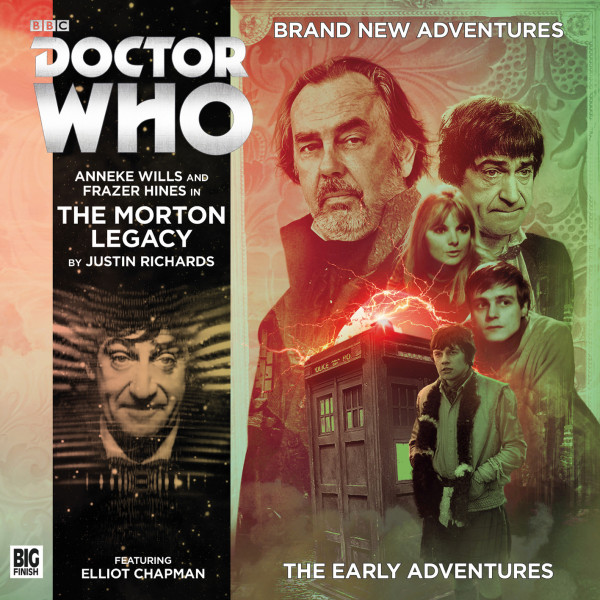 From underground escapades to mysteries in the past, it's another adventure for the Second Doctor, Polly, Ben and Jamie in Doctor Who – The Morton Legacy.
When the TARDIS lands in London, Ben and Polly are initially delighted to be back home… until they realise that they're a hundred years too early. But this is nothing next to how the Doctor and Jamie feel when the TARDIS itself vanishes!
†¨ Their attempts to locate their ship lead them to an antiquarian, Josiah Morton, possessed of a most unusual collection that is currently subjected to a legal dispute. But they're not the only people interested in him. Dangerous criminals watch from the shadows, waiting for a moment to strike. And the police are calling too – accusing him of murder.†¨
An unusual series of deaths have been occurring across the capital, and all signs point to Morton as the culprit. But is he really a killer? Or is there something else at large in the city? Something… alien?
You can get this Early Adventure starring Anneke Wills, Frazer Hines and Elliot Chapman today on CD at £14.99 or download at £12.99. Don't forget that all CD purchases unlock a download option with the Big Finish app and the Big Finish website.
Or save money on a subscription. Get all four volumes of series four of Doctor Who – The Early Adventures for £45 on CD or £40 on download.
Out next month is the final chapter of series four of Doctor Who – The Early Adventures: The Wreck of the World by the award-winning Timothy X Atack. This adventure reunites Zoe with the Second Doctor and Jamie as they face the very end of everything.
Undergoing repairs in deep space, the TARDIS is caught in a collision with the huge, decaying wreck of a starship. Zoe, spacewalking, is separated from her companions in the crash, and the Doctor and Jamie wake to find the TARDIS fused to the side of the ship.
Venturing inside to rescue their friend, they discover that they are on board The World, the very first colony ship to leave Earth, lost mid-voyage under unknown circumstances.
And they are not alone. A terrible suspension chamber is filled with dead, withered human bodies, and a team of gun-toting astronauts are stalking the corridors. But a far greater threat lurks deep inside. The terrifying force responsible for the scuttling of the ship is active once more – and if it can't be stopped, it won't just be the end of this World. It'll be the end of all of them.