For The Love Of StoriesBig Finish produce fantastic full-cast audio dramas for CD and download.
Doom Coalition 4 - Details!
6 December 2016
Coming in March is a special Eighth Doctor release, as Doctor Who - Doom Coalition concludes...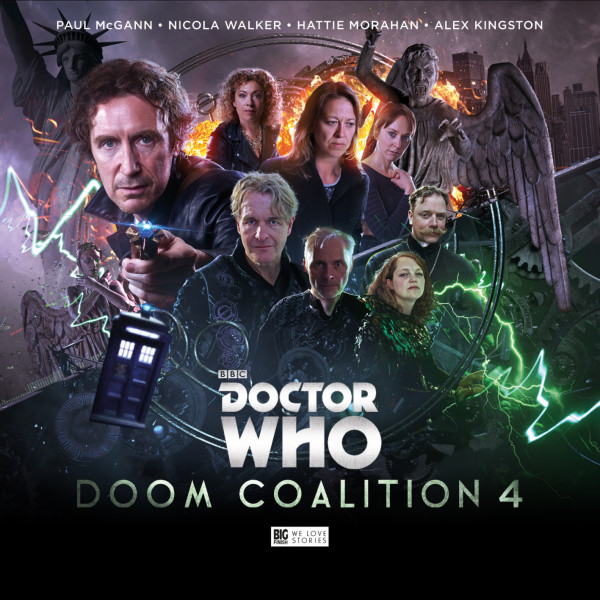 The Doomsday Chronometer is counting down to the end of the universe, the Doctor and his companions have been defeated and Gallifrey has been overtaken by a group of dangerous fanatics. That's the bleak scenario in Doctor Who - Doom Coalition 4, which brings the 16-episode saga to a nail-biting conclusion in March 2017.
'It's been such a joy working on a project of such a large scale,' says producer David Richardson, 'and to tell a story that spans so many episodes. Of course, what I hadn't bargained for is that the final box set would need the return of a large number of ongoing characters, which meant that scheduling the recording and finding availability for all these busy actors has been one of the biggest logistical challenges I've ever faced!'
Paul McGann returns as the Eighth Doctor, alongside Nicola Walker and Hattie Morahan as his companions Liv Chenka and Helen Sinclair. Also returning: Mark Bonnar as the popular villain The Eleven, Robert Bathurst as Padrac, Emma Cunniffe as The Sonomancer, while Rufus Hound joins the series to reprise his role as The Meddling Monk.
'We wanted to bring back a familiar Time Lord during the course of these stories,' says David, 'and the Monk fitted right in. But which side will he be on?'
Doom Coalition 4 begins with Ship in a Bottle by John Dorney, which addresses the consequences of the previous set's cliffhanger. 'We set John a massive task for this episode,' says David. 'He was only allowed one location, and the three lead characters. A whole hour of Paul, Nicola and Hattie sparking off each other, without any guest cast or monsters… It's one of the most riveting and tense scripts I've ever read.'
'When writing Doom Coalition 3 I deliberately ended with a big cliffhanger and no idea how to get out of it because I knew Matt was lined up to do the next episode,' says John. 'So when plans were changed, and it became mine, I was somewhat hoist on my own petard. But the brief for this episode - to only feature our three regulars in one room for an hour - was impossible not to get excited about. That's the sort of challenge I love, and it really was a thrill to script. Can't wait to hear it.'
In Songs of Love by Matt Fitton, River Song goes to Gallifrey, and teams up with the Doom Coalition. 'This episode is River's sole appearance in the box set,' says David, 'but the story is largely centred on her, as Matt bring's the character's contribution to the Doom Coalition saga to an exciting and emotional climax.'
Matt Fitton also writes The Side of the Angels, which is set in the New York and sees the return of some familiar foes and friends. The Weeping Angels are back in Doctor Who, and so are some recurring characters from Big Finish's War Doctor series, with the return of Beth Chalmers as Veklin and an earlier incarnation of Cardinal Ollistra played by Carolyn Pickles (Broadchurch).
'We've hinted that the Doctor's history with Ollistra extends back before the Time War,' Matt teases. 'The face might be different, but this incarnation is just as pragmatic and scheming when Gallifrey is threatened. Why is the Cardinal in 1970s New York, with the faithful Veklin by her side? That the city is a notorious haunt of the Weeping Angels may have something to do with it... '
Gallifrey is under siege in the final episode Stop the Clock, as the Doctor and his friends make a last desperate attempt to prevent the inevitable end. 'We're hoping that this will pack a few surprises,' says David, 'and suddenly things that I suspect listeners did not even think were mysteries will start to make sense…'
'I'm really proud of Doom Coalition,' concludes director Ken Bentley. 'In planning this series we wanted the storytelling to be as varied as possible, to explore things we haven't always had the time to explore. We wanted the series to be surprising as well as satisfying. That was the plan. But only those who have joined us on this journey can tell us if we've achieved what we set out to do. I look forward to finding out!'
Doctor Who - Doom Coalition Series 4 is out in March, and can be pre-ordered today at the special prices of £20 on either Download, or a CD purchase which unlocks a digital version on release. Bundles collecting all four sets together can be found here for £80 on either format.
The Monk's most recent encounter with the Doctor at Big Finish was in Doctor Who - The Blame Game, which along with Liv Chenka's misadventures in next month's Doctor Who - The World Beyond the Trees can be bought on download in the Doctor Who - Short Trips range.