We love StoriesBig Finish produce great full-cast audio drama for CD and download, featuring many popular television fantasy series.
Early Adventures Series 5 - more details!
6 October 2018
More details have now been revealed on the fifth series of The Early Adventures starring Peter Purves and Maureen O'Brien. The Dalek Occupation of Winter, the first of four enthralling new adventures from the era of the First Doctor, was released last month and we can't wait for more!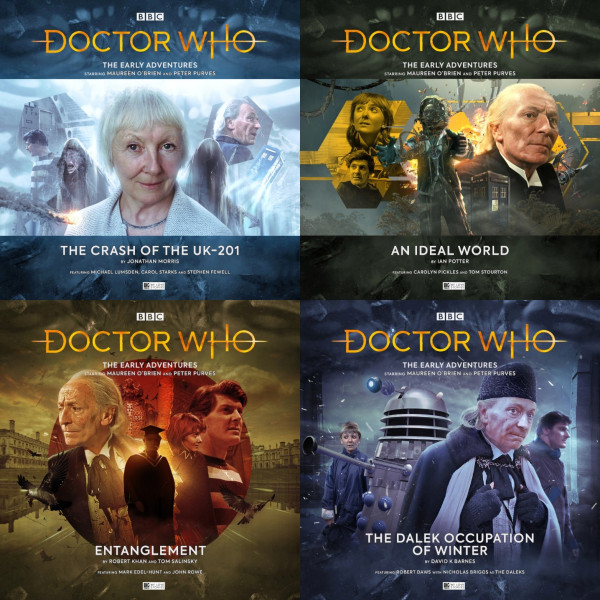 Three more adventures will soon be released for the First Doctor, Vicki and Steven in The Early Adventures Series 5.
October's release, An Ideal World, is by Ian Potter:
Light years from Earth, a vast human spaceship hangs in orbit over a cloudy alien planet. The crew have been travelling in cryosleep for many years, looking for a habitable world to settle, and have at last located one with potential.
However, they're not the only people to have arrived in this place. The TARDIS has landed on the planet's surface. The Doctor, Stevenand Vicki explore and quickly find themselves separated.
But it isn't merely the hostile environment and rogue terraforming drones they'll have to deal with. Something else is livingon this world. Something deadly and waiting to consume. It's an ideal world. But ideal for whom?
Entanglement by Robert Khan and Tom Salinsky will be released in November:
Cambridge, England, the mid 1930s. When the Doctor, Steven and Vicki get separated from the TARDIS they are forced to spend some time amongst the ancient spires of Sedgwick College. The college is mid-way through a leadership crisis following the unexplained disappearance of the Master of Sedgwick, Sir Isaiah Hardy. An election for his replacement is now taking place.
But is that all that's happening in this seemingly peaceful location? The Proctors are behaving in mysterious ways and the students are prone to bursts of unexplained violence. When one of his companions also vanishes, the Doctorrealises that there's more at stake here than control of an educational establishment. A dark plan is underway - one that threatens the entire future of humanity itself!
And The Crash of the UK-201 by Jonathan Morris will be released in December:
You can't change the past, every time traveller knows that. What's done is done and cannot be unwritten. But what if it isn't the past any more? What if it's now the present?
The spaceship called the UK-201 was intended to fly to the Earth colony of Astra. But it never made it. Crashing on the planet Dido, a tragic chain of events was set in motion leading to the death of almost all of its crew and a massacre of the indigenous population.
The only survivor of these events was a young girl called Vicki. Rescued by the time traveller known as the Doctor, she's been travelling in his ship for some time.
So when she suddenly wakes up in her cabin on the UK-201 again, without her friends, a few days before the accident, she's faced with a stark choice... Can she stop the crash from happening? And if she can, should she?
Producer, David Richardson explains the series five master plan: "The plan for this run was to do a season of 1960s Doctor Who. Of course, we couldn't manage 48 episodes' worth – that would have been madness – but we've done 16 new episodes with Peter Purves and Maureen O'Brien that all follow on from each other and take the listener on a magical journey through time and space."
More about this latest series of The Early Adventures can be found in this month's free Vortex Magazine available on download from the Big Finish website.
You can pre-order each of these The Early Adventures for £14.99 on CD or £10.99 on download today. Don't forget that all CD purchases unlock a download option via the Big Finish app and the Big Finish website.
Or you can save money with a subscription. Get all four volumes of series five of Doctor Who – The Early Adventures for £45 on CD or £40 on download.
And for fans of the First Doctor – make sure you check the Big Finish website tomorrow…