For The Love Of StoriesBig Finish produce fantastic full-cast audio dramas for CD and download.
2 February 2018
Coming soon in the Doctor Who Main Range, the Fifth Doctor finds himself in his first adventure with a brand-new UNIT team in The Helliax Rift, an adventure unlike any Main Range arc heard before†¦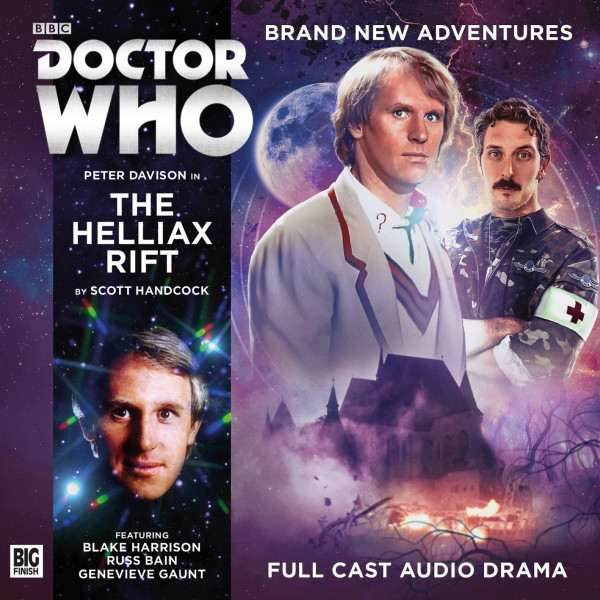 Written by Scott Handcock and directed by Jamie Anderson, Peter Davison stars with an exciting guest cast in the first Fifth Doctor/UNIT crossover out this April.
Daniel Hopkins thought he knew what he was letting himself in for when he joined the top-secret UNIT organisation as its latest Medical Officer.
Racing about the countryside, chasing strange lights in the sky? Check. Defending the realm against extraterrestrial incursion? Check. Frequent ear-bashings from UNIT's UK CO, the famously no-nonsense Lt-Col Lewis Price? Check. Close encounters of the First, Second and even Third kind? Check, check, check.
But he had no idea what alien beings were really like. Until the day of the Fallen Kestrel. Until the day he met the Doctor.
Alongside Peter Davison in this adventure are Blake Harrison as Lieutenant Daniel Hopkins, who listeners may recognise from the cast of Channel 4's The Inbetweeners, and Jacob Dudman, who is also narrating the upcoming Big Finish Tenth Doctor Chronicles.
Writer Scott Handcock told us more about this new UNIT trilogy of adventures: "It's a thrill to write a UNIT adventure for the Fifth Doctor – and stranger still to think he's never had one before! It's a fun dynamic to play with, and a bonus to establish new characters who will recur across the Main Range. It's Peter and a brand-new UNIT team, led by Russ Bain as Lieutenant-Colonel Price, with Genevieve Gaunt as Corporal Maxwell, and Blake Harrison as UNIT's new medical officer Lieutenant Daniel Hopkins.
"Script editor Alan Barnes worked hard to assemble a team that work across the trilogy of adventures, and director Jamie Anderson's done all the characters justice with some brilliant casting. But it's safe to say that UNIT and their former scientific adviser don't exactly see eye to eye…"
You can pre-order The Helliax Rift (to be released in April) at £14.99 on CD or £12.99 on download. All CD purchases unlock a download option via the Big Finish app and the Big Finish website.
Or you can save money by getting a subscription to the Doctor Who Main Range. When you subscribe you'll get 30% off the price, free specially recorded Short Trips stories, PDFs of the scripts, and extended downloadable extras. You can subscribe for either 6 or 12 releases.
Coming next in the Doctor Who Main Range the Fifth Doctor dies… or so it would seem, in Ghost Walk by James Goss.
This is a city of ghosts and no-one knows them better than Leanne. Twice a night she leads tourists on a tour of the most haunted sites – the Hanging Yard, the Witch Pool, the Screaming House, and, of course, the Catacombs.
Leanne's realised the ghosts of the city are real. Something's lurking in the Catacombs – an ancient force that has been growing in the darkness for centuries. Sabaoth is returning and they must be stopped before they devour the world.
Leanne knows this, because a ghost told her. A ghost called The Doctor.