The Tenth Doctor Chronicles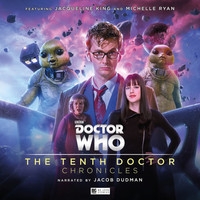 Released April


Prices
CD
US $30.23
Download
US $20.00

Web Special Price!


Synopsis
"The answer is a definitive "yes". Jacob Dudman's rendition of the Tenth Doctor's voice is more than simply uncanny. It's a voice that sounds completely authentic. Not just in terms of pitch, but in the vocal mannerisms, too… Big Finish really did find the perfect voice for this set of stories." Doctor Who Watch
"The chronicle is a terrific way to tell further adventures without relying on specific actors, and these stories stand on their own. Big Finish fans know the real stars are the writers and there are four very different and entertaining adventures... 'The Tenth Doctor Chronicles' deserves to be a great success" Blogtor Who
9/10 "It's back to teatime in 2008 for a great entry in the 10th Doctor annals." Sci-Fi Bulletin
"It's also important for welcoming two notable new players to the team in the form of Dudman and Ryan - both of whom are already set to return for more boxsets. Based on the strength of this release, we hope they stick around for a long while yet." Starburst
"Jacqueline King's performance allows us to see light through the chinks in her formidable armour… Michelle Ryan slips instantly back into the role of Lady Christina… Jacob Dudman is clearly a talent" Cultbox
9/10 "With Dudman's extremely versatile voice and his huge range of impressions I can't wait to hear him take on the 11th Doctor in a set and now I've heard it, I think he'd be great playing as the 9th Doctor as well." Indie Mac User
9/10 "Jacob Dudman has to be congratulated on his performance, both as the Tenth Doctor, and as the narrator. Dudman, paired with Helen Goldwyn's script, are a delight to the ears, and the narration especially is stellar in this release. If you loved Series 2 of Doctor Who, then I implore you to listen to this tale." Gallifrey Archive
This title was released in April 2018. It will be exclusively available to buy from the BF website until June 30th 2018, and on general sale after this date.
Four narrated stories set in the Tenth Doctor era
The Taste of Death by Helen Goldwyn
The Doctor and Rose sample the high-life on resort planet MXQ1, run by the famous Bluestone brothers. It has everything: exotic beaches, luxury accommodation and extravagant dining. Something's cooking in the kitchen, and it's to die for…
Backtrack by Matthew J Elliott
When the TARDIS crashes in the vortex, Martha and the Doctor find themselves on board the time-ship The Outcome, where the host offers temporal cruises at reasonable prices.
But time travellers must never cut corners. Dangerous forces have been unleashed, and Martha finds her medical skills put to the test as she deals with some lethal fall-out.
Time is running out, and the clock is ticking towards disaster!
Wild Pastures by James Goss
Strange things are happening at the Wild Pastures Rest Home. When the Doctor calls on the Nobles to investigate, he doesn't expect Sylvia to be the one to step up. Soon, they're in too deep, and the Doctor and Sylvia will need all their faculties to get out alive.
Last Chance by Guy Adams
Trying to spare a few creatures from extinction, the Doctor bumps into an old acquaintance on the African plains – Lady Christina de Souza. They are about to find themselves on the endangered list…
Written By: Matthew J Elliott, James Goss, Helen Goldwyn, Guy Adams
Directed By: Helen Goldwyn
Cast
Jacob Dudman (Narrator / The Doctor), Jacqueline King (Sylvia Noble), Michelle Ryan (Lady Christina de Souza), Jon Culshaw (Nathan Hobb), Arinzé Kene (Orentino). Other parts played by members of the cast.
Producer Scott Handcock
Script Editor Matt Fitton
Executive Producers Jason Haigh-Ellery and Nicholas Briggs