We love StoriesBig Finish produce great full-cast audio drama for CD and download, featuring many popular television fantasy series.
Gallifrey - an all-out Time War
21 December 2017
Find out what happens to the Time Lords' homeworld in Gallifrey: Time War as chaos descends...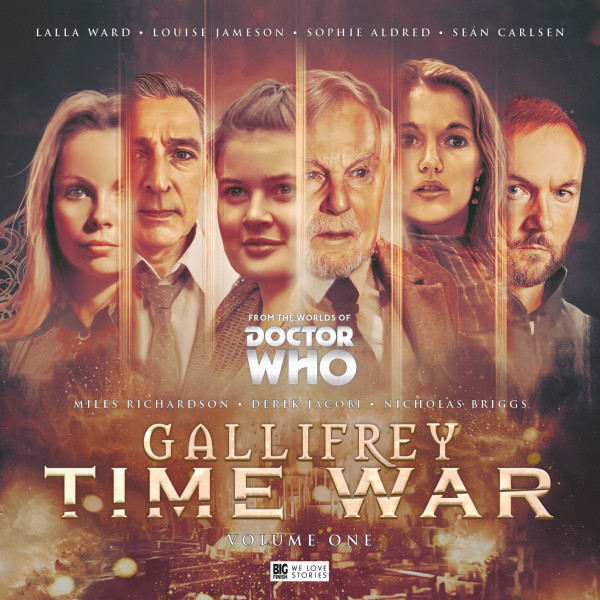 Today we can reveal more details for the upcoming story Gallifrey: Time War. Romana, Leela and Ace continue their lives on the Time Lords' home planet as it is thrown into the chaos of the Time War.
1.1 Celestial Intervention by David Llewellyn
The Temporal Powers are under threat. It is only a matter of time before the Daleks attack.
Now CIA Coordinator, Romana must protect the interests of Gallifrey, while dealing with demands from President Livia and an increasingly powerful War Council.
As allies are whittled away, the Time Lords are drawn into a conflict they can no longer avoid…
1.2 Soldier Obscura by Tim Foley
Braxiatel has always planned for contingencies. As hostilities escalate, he takes Ace into a deadly region of spacetime – The Obscura – to locate an ancient research station.
But Ace is about to learn more about Irving Braxiatel than anyone should know.
Some soldiers are ready for this fight, but some will not make it through the first round.
1.3 The Devil You Know by Scott Handcock
The Time War has begun in earnest, and Romana must think the unthinkable. For a most dangerous mission, she selects the most dangerous warrior – the Master.
But he will not be alone. Leela accompanies her old enemy as they begin an unusual interrogation.
What does Finnian Valentine know? And can Leela and the Master ever truly be on the same side?
1.4 Desperate Measures by Matt Fitton
The Dalek Emperor attacks a vital Time Lord outpost. Victory would be a devastating blow to Gallifrey.
Romana is caught in the machinations of a President who sees control slipping away. Is it time to bargain with the War Council, or perhaps to parlay with even more dangerous parties?
The Time War has barely begun, and for Gallifrey, desperate times are already here…
You can pre-order Gallifrey: Time War in advance of its release in February next year at £23 on CD or £20 on download (don't forget that all CD purchases unlock a download option on the Big Finish site and via the Big Finish app).
Or save money with a bundle. Get Gallifrey: Time War with The War Master, and Tales From New Earth (out in March) for £63 on CD or £54 on download.
Tales From New Earth features four adventures from the New Earth setting of Doctor Who television episodes The End of the World, New Earth and Gridlock – and you'll be able to find out what the War Master got up to during the Time War.
Don't forget that there are plenty of other Time War tales while you wait for the release of Gallifrey: Time War.
Two Short Trips tell Nyssa and Susan's side of the story in a universe at war in All Hands on Deck and A Heart on Both Sides, downloadable at £2.99 each.
And there is also Doctor Who - The Time War 1, starring Paul McGann as the Eighth Doctor and Rahkhee Thakrar as Bliss. Make sure you pick it up at the pre-order price of £23 on CD or £20 on download before it goes up at the end of this month.