We love StoriesBig Finish produce great full-cast audio drama for CD and download, featuring many popular television fantasy series.
Halloween competition winner
16 October 2017
Last week we ran a competition to find out what Big Finishers thought was the scariest release, and the results were spooktacular! Are you the winner of a complete download collection of Dark Shadows: Bloodlust?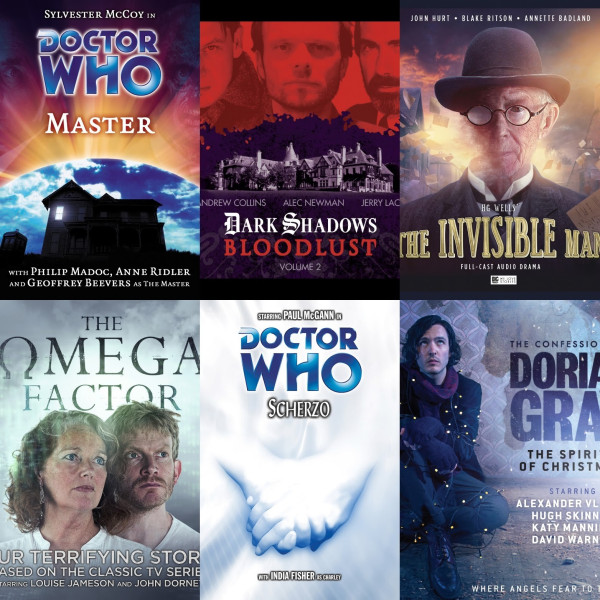 When we asked Big Finishers what the scariest stories were, we never expected such a variety of results.
One of the top choices was the Doctor Who Main Range release Master, written by Joseph Lidster, starring Sylvester McCoy and Geoffrey Beevers as the Master. This story was released around the 40th anniversary of Doctor Who, back in 2003.
Many years ago, on a dark and stormy night, the disfigured and enigmatic Doctor John Smith invited his closest friends, Inspector Victor Schaeffer and his wife, Jacqueline, to a dinner to celebrate his birthday. A few hours later all the occupants in that house had changed – some were dead, others mentally scarred forever by the events of that night.
So, what happened to the distinguished dinner guests on that evening? Perhaps, we¹ll never know. But two clues have led to much speculation: found outside the study window, a charred umbrella with a curved red handle, and found inside the house, a blood-stained copy of Stevenson's The Strange Case of Dr Jekyll and Mr Hyde.
For one person, this night represented an ending: an ending to one thousand years of darkness and an ending to ten years of light.
But, for everyone else, is there no end to this one night of Hell?
James Morgan Belcher: "Undoubtedly, the scariest release is easily 'Master' from the Doctor Who Main Range. An utterly petrifying experience which gives incessant insight into the character we collectively support and leaves off on a haunting note that will both send shivers up your spine and question the nature of the show itself."
Andrew Mitton: "To me, the scariest Big Finish release would be Master. Unlike most horror in Doctor Who, Master explores the psyche of a madman in a way that's both intimate and terrifying."
James R Sweet-Jones: "Main Range 49 Master maintains its ghostly chilling atmosphere throughout and always chills me upon listening. Through dissonant soundscapes and the crisp voice of Philip Madoc against Geoffrey Beevers', melancholy sophistication remains on top form. The twisted premise of the Master leaves this not to be missed for Halloween listening!"
Master is available at £2.99 on download.
Not far behind Master as recommended was Scherzo, another chilling tale from the Doctor Who Main Range.
Once upon a time...
There were two friends, and together they travelled the cosmos. They thwarted tyrants and defeated monsters, they righted wrongs wherever they went. They explored the distant future and the distant past, new worlds and galaxies, places beyond imagining.
But every good story has to come to an end...
With no times or places left to explore, all the two friends have now are each other. But maybe that's one voyage too many. Maybe they'll discover things they'd rather have left undisturbed... hidden away in the suffocating, unfeeling, deafening brightness.
Once upon a time. Far, far away.
Jason Chisholm: "Scherzo is the most horrifying story, maybe ever. Not only is there disturbing body horror and gruesome themes but emotionally it tears at you. It may be a new beginning but it's the beginning of the end of a relationship. Its production quality and atmosphere only add to the horror."
Jaxon Milovitch: "Scherzo scared me the most. I listened to it in bed and the quiet drew me in. Then something stole our arguing heroes voices. It started using the voices, manipulating it and then blowing my earphones off. Switched it off for a while there. Lights on for a bit for the rest."
Scherzo is available at £12.99 on download or £13.99 on CD.
Also recommended was The Hollow Earth, from The Omega Factor, Series 1.
A church is meant to be a place of sanctuary. Of peace. Of protection. But when Anne and Adam look into disappearances among the homeless of one Southside parish, they find themselves trapped and terrified within the walls of St Nicholas as all hell breaks loose around them…
Carl Anthony Morries: "I listened to this on my iPod – alone at work – while on a night shift. After listening to it I had to turn all the lights on, and I even jumped at my own reflection in a window. Very creepy."
And we even had a Christmas themed recommendation with the two episodes of The Confessions of Dorian Gray, The Spirits of Christmas release.
Desperately Seeking Santa by Tim Leng
December, 2015. When an intruder breaks into his home in the dead of night, Dorian Gray is more than a little surprised to discover that Santa Claus himself is trying to kill him. Can he track down Father Christmas before the big day – or is the slay ride just beginning?
All Through the House by Alan Flanagan
Christmas Eve, 2015. When Dorian and Toby check into a mysterious hotel, nothing is quite as it seems. Ghosts of the past are trapped in the present, threatening their future – and nothing can ever be the same again...†¨
Alex Pass: "Dorian Gray's The Spirits of Christmas is a cracker (sorry!!). Colin Macfarlane, David Warner and Gabriel Woolf are all on top terrifying form – any of those three could read a shopping list and make it sound terrifying, so giving them material like this... well, we did warn you...!"†¨†¨
The Spirits of Christmas is currently available at £14.99 on CD or £12.99 on download.
But our favourite review and the WINNER of the digital download of all of Dark Shadows: Bloodlust goes to Dan Sjöström, who said: "I find The Invisible Man most scary, mostly due to John Hurt's intense portrayal of the terrifying yet tragic title character. The idea of not knowing when you are safe makes me feel like Griffin could reach out and grab me at any second. Perfect use of the audio format."
In the midst of a snowstorm, a stranger arrives in an English country inn, seeking solitude. Soon, inexplicable goings-on at the Coach and Horses bring fear to the village.
Two very different men – the scholarly Dr Kemp and gentleman-of-the-road Thomas Marvel – are drawn into terrible events beyond their understanding.
A man named Griffin has defied the laws of nature, and is about to embark on a reign of terror. For he is... The Invisible Man.
The Invisible Man starring the late Sir John Hurt, is available on the Big Finish website at £14.99 on CD or £12.99 on download. And you can get a free excerpt here.
Congratulations, Dan! Thank you to everyone who wrote in recommending spooky stories and delighting us with your reviews – we love hearing from listeners. Keep letting us know what tales you enjoy. And Happy Halloween!