For The Love Of StoriesBig Finish produce fantastic full-cast audio dramas for CD and download.
Have You Heard...? Graceless
20 June 2016
Abby and Zara are twins with special powers, capable of doing great good - and great harm! Learn just what they can do with our guide to this classic Big Finish series.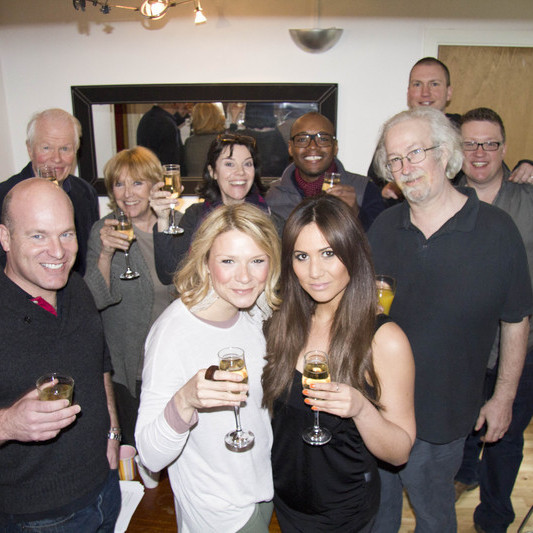 Graceless is perhaps one of the most surprising ranges in the Big Finish catalogue. Not only did it challenge listeners with adult themes and grim storytelling (long before Survivors, Torchwood and Dorian Gray arrived on the scene), but the demand for its existence even took Big Finish Chairman Jason Haigh-Ellery by surprise.
'At the Gallifrey One convention in Los Angeles,' recalled Jason, 'we were asked "What's next for Amy and Zara?". I remember being surprised – but in a good way! It was great that we'd created characters that people liked and wanted to know more about'.
Amy (Ciara Janson) and Zara (Laura Doddington) were originally introduced in the Doctor Who trilogy The Key 2 Time. Created by a race of all-powerful beings known as the Grace, both twins displayed special powers over time and space. Amy aided the Fifth Doctor (Peter Davison) in his search for a legendary artefact; while Zara acted as a rogue agent, murdering her way across the galaxy in a hunt for the same power.
After reality was saved, the twins made peace with each other and went their separate ways. But listener demand for new adventures led to Jason approaching the pair's creator Simon Guerrier, in order to launch their very own series.
'When I created Amy and Zara,' said Simon, 'they were always meant to run and run as characters. I designed them with the idea that there was a lot of potential, and we'd see where we could go with them. Jason asked me if we could do a spin-off; something on the same budget level as Bernice Summerfield, which I used to produce and knew the mechanics of.
'I suggested that I would write it all, but I would need a producer who could basically be the script editor as well as keeping an eye on what I was doing, so Mark Wright came on board. By that point I knew what I wanted to do, and stared off by thinking: "What can I do that we haven't done before, what could Graceless do that other series haven't done"?'
Simon's line of thinking would see the series (originally pitched under the name The New Adventures of Amy and Zara) explore some darker corners of the universe, tackling some stronger themes than their originating stories. The change in tone would also see Amy abandon the morals she'd gained from the Doctor and rename herself Abby. This development was partly to avoid confusion, given the introduction of Doctor Who television companion Amy Pond, but followed a theme that Simon had always intended.
'That was always part of my pitch. The character gained the name Amy when she was with the Doctor and she defined herself by him. The moment he's not there, she's reinventing herself. I said "I think she should use a different name," which is a different and striking way of saying she's not who she was. We wanted to appeal to the people who knew the characters, but get new people listening as well'.
Series 1's opening story The Sphere featured several shocking scenes designed to demonstrate the new tone of the series, along with Abby's new personality. Trapped and powerless in the confines of an artificial casino satellite, the twins are caught out by the gangsters in charge; leading to Abby being brutally assaulted.
'The scene where Abby is beaten up is the controversial one,' said Mark. 'It shows it's not Doctor Who any more. Some people have said it's us trying to be grown up, that it's gratuitous violence, but it's not. For Abby to become the person she does, it's a horrendous moment that inspires her to take action...'
The first box-set continues with The Fog and The End, which both force the girls to make horrendous decisions to survive; but this unusual tone proved to be a success with listeners.
'It was a lot of hard work,' said Mark, 'starting off with Simon's vision, with input from myself, director Lisa Bowerman and Jason into the scripts. Simon's got such a different tone from anything Big Finish has done before, which is probably Graceless's greatest success. I think it has taken a lot of people by surprise.'
Series 2 continued the darker tone, but added a chance for the twins' redemption with the birth of Zara's baby, Joy. With the addition of Joy's father Marek (Fraser James), Abby and Zara are now part of an unconventional family unit, looking for a home. While old enemies are still on their trail, the twins do find the time to make some new allies; including Brondle and Wing, a husband and wife couple played by Michael Cochrane and Joanna Van Gyseghem.
'Michael was such a lovely presence in studio, bringing all his Archers experience and warmth,' recalled Mark. 'Both he and Joanna were class acts. I was delighted when Simon suggested they return for Series 3.'
Series 3 saw the Grace finally catching up with the pair; and Abby and Zara must choose the day they die in order to save their home. But despite this climatic - and seemingly very final – adventure, Abby and Zara found themselves reunited to defend the multiverse in 2015's cross-over release The Worlds of Big Finish. The success of this title made Jason keen to continue the twins' story, and Graceless: Series 4 is due for release in January 2017.
'We're thrilled to get to write more adventures for Abby and Zara,' enthuses Simon. 'But how to bring them back from that rather definitive ending? Well, the answer we've come up with makes me giddy with delight... I can't wait!
'There's a story told in a town by the sea about two magic fairies. Now a young man called Pool has arrived in town looking for Abby and Zara, desperate for their help as the planet faces disaster. But even if the story was ever true, it must have happened hundreds of years ago. As a couple of interfering old ladies endeavour to explain...
'Abby and Zara's new adventures see them take part in a war that has lasted centuries, conduct brain surgery in a hospital in space, and take a dance at the very end of time...'
Graceless: Series 4 can be pre-ordered today for only £25 on CD or £20 to download. Abby and Zara's earlier adventures are available at special offers prices until noon Tuesday June 20th. Click here to explore the offers.