For The Love Of StoriesBig Finish produce fantastic full-cast audio dramas for CD and download.
Have You Heard...? Vienna
24 June 2016
The galaxy's most glamorous bounty-hunter can be enjoyed for special offer prices today. Catch up on her missions so far, with this complete guide to Vienna Salvatori!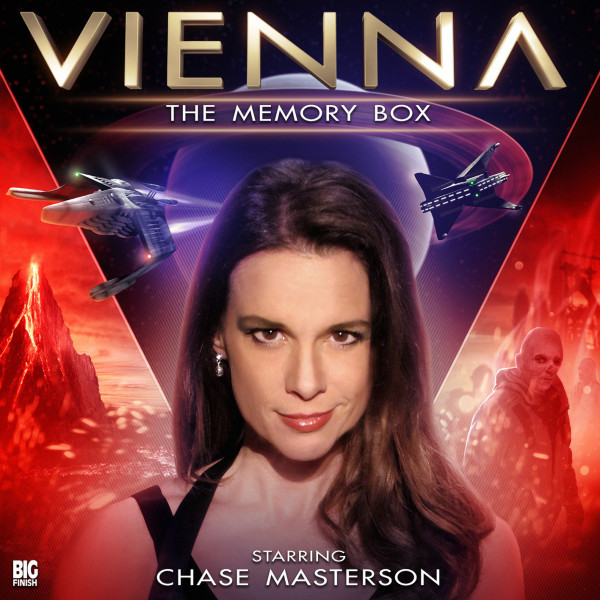 Vienna follows the adventures of Vienna Salvatori, the galaxies deadliest – and most glamorous – bounty-hunter. Originally appearing in Doctor Who: The Shadow Heart, Vienna faced off against the Doctor in a war against the murderous Wrath. But despite her villainous persona, the character proved to be a hit with Big Finish's producers – and her very own series was soon being written!
Vienna is portrayed by Chase Masterson, well known in the cult TV world for her role as Leeta on Star Trek: Deep Space Nine, as well as her appearances in Sliders, The Flash, Robotech and E.R. After appearing opposite Tom Baker in Doctor Who: Night of the Stormcrow, she was cast as the Shadow Heart's Bounty-Hunter – and immediately found herself invited back to reprise the character.
'Vienna is one of my favourite characters ever' says Chase, 'the endearingly incorrigible killed we love to hate... completely unapologetic, even charming about her day job as a mercenary assassin. Plus, she usually managed to land of the side of justice. Vienna's quite a turn-on ...'
The series began with the single story pilot Vienna: The Memory Box, written by Vienna's creator Jonathan Morris. The opening story set the groundwork for much of what was to come – with villainous corporations, disgusting criminals, warring races and secrets locked away in forgotten memories – memories that would prove important to the ongoing story.
'It's a very colourful universe' says Jonathan, 'it's not particularly dark or grim. It's a wild, colourful thing with lots of aliens, spaceships, robots and visiting strange alien planets – all the things I love about science-fiction, but with a slightly more psychological story running through it'.
The success of The Memory Box soon led to a full box-set of adventures – where Vienna picked up the trail of Crevo Finn (Mark Frost) a dangerous criminal with links to her past.
As she murdered he way across the galaxy, Vienna also encountered the charismatic Bax Spendlove – played by Frazer Hines, who had originally recommend Big Finish to Chase!
'I was horse riding with Chase and told her I was doing an audio recording' recalled Frazer 'and remarked, 'Chase... you have a good face, ideal for audio.' She nodded in agreement, then realised what I had said… I galloped off double quick!'
'Frazer said 'oh gosh, we're having such fun with Big Finish and it's very popular – why don't we put you in touch with the producers and have you do some'. I said that would be fabulous! I love the medium of audio plays. I think it's fabulous that an actor can do this – it's acting, it's not just getting up in front of a camera and looking pretty... it's real chops!'
Chase returned to the role for Vienna: Series 2 – but this time with a career change. Another memory-based catastrophe led Vienna to be stranded in a far-future version of New York City – and working as a cop.
Now on the straight-and-narrow, the former bounty-hunter found herself partnered up with Lieutenant Jexie Reagan (Samantha Béart) – and together, they hunted down the criminals that Vienna would have once called friends.
'Lieutenant Reagan is a law-enforcer haunted by the ghosts of her past', said in-coming producer Cavan Scott when the set was announced, 'Together, Vienna and Jexie make a formidable duo!'.
It seemed that Reagan's luck was as good as her partners – as mere days into recording Series 2, Samantha found herself invited to return for Vienna: Series 3. The box-set saw Vienna and Reagan leave the big city behind to set up their own detective agency!
There are still corners of the universe which have bred the most terrible things for Vienna to hunt down and kill. It's safe to say we haven't seen the last of the galaxies most glamorous bounty-hunter...
The complete Vienna range is available at special offers prices today from the Big Finish website. Click here to explore the offers.