We love StoriesBig Finish produce great full-cast audio drama for CD and download, featuring many popular television fantasy series.
24 December 2014
Humble Bundle have teamed up with Big Finish Productions Ltd. to launch a new audiobook bundle showcasing Doctor Who and the expanded universe, a move that's sure to satisfy overwhelming fan demand.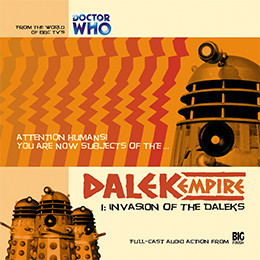 Not only does this bundle feature audible tales of the classic Doctor Who with The Lost Stories (stories written for the Doctor Who TV series but never produced), starring one of the most beloved Doctors, Colin Baker (the Sixth Doctor), it also includes the original audio drama, Dalek Empire, written and directed by Nicholas Briggs and featuring David Tennant heading up an all-star cast. In addition, a promo code for the Doctor Who: Legacy game from Tiny Rebel will be offered to unlock some characters for free including the 6th and 8th Doctors.
Humble Bundle organises pay-what-you-want plus charity promotions for awesome digital content and puts the power directly in the hands of the consumers, offering them fully-featured titles at prices they set themselves. Consumers pay what they want and decide how to allocate their money between content creators, charity, and a humble tip. Humble Bundle also offers the Humble Store, a digital storefront that features great games at great prices with a portion of sales going to select charities. Since the company's launch in 2010, Humble Bundle has helped empower its community to allocate more than $47 million toward charity to date.
In this promotion customers can pay what they want for Dalek Empire 1.1: Invasion of the Daleks, Dalek Empire 1.2: The Human Factor, Dalek Empire 1.3: Death to the Daleks, Dalek Empire 1.4: Project Infinity, Dalek Empire 2.1: Dalek War, Dalek Empire 2.2: Dalek War, Dalek Empire 2.3: Dalek War, and Dalek Empire 2.4: Dalek War. Those who pay more than the average price will also receive Dalek Empire 3.1: The Exterminators, Dalek Empire 3.2: The Healers, Dalek Empire 3.3: The Survivors, Dalek Empire 3.4: The Demons, Dalek Empire 3.5: The Warriors, and Dalek Empire 3.6: The Future. Customers who pay $15 or more will receive all of the above, plus Doctor Who - The Lost Stories 1.1: The Nightmare Fair, Doctor Who - The Lost Stories 1.2: Mission to Magnus, Doctor Who - The Lost Stories 1.3: Leviathan, Doctor Who - The Lost Stories 1.4: The Hollows of Time, Doctor Who - The Lost Stories 1.5: Paradise 5, Doctor Who - The Lost Stories 1.6: Point of Entry, Doctor Who - The Lost Stories 1.7: The Song of Megaptera, and Doctor Who - The Lost Stories 1.8: The Macros.
That's just for starters with more audiobooks to be added mid-promotion. As with all Humble Bundles, customers can choose how their purchase dollars are allocated, between the publisher and charity. The Humble Doctor Who Audiobook Bundle supports Doctors Without Borders, which helps people worldwide where the need is greatest, delivering emergency medical aid to people affected by conflict, epidemics, disasters or exclusion from health care.The Humble Doctor Who Audiobook Bundle runs for two weeks and ends Tuesday, January 7, 2014 at 11 a.m. Pacific time.