For The Love Of StoriesBig Finish produce fantastic full-cast audio dramas for CD and download.
Jenny - The Doctor's Daughter - out now
5 June 2018
Jenny is brand new to the universe. Born a soldier, made for war, she has a Time Lord's heritage. Luckily, that Time Lord is the Doctor. And now, ten years since we first met her, The Doctor's Daughter has her own adventures for you to discover, courtesy of Big Finish.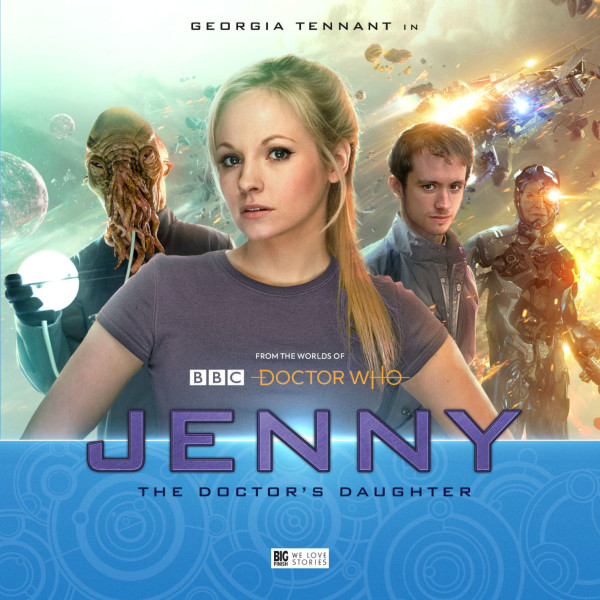 She's ready to save planets, fight monsters and save the day using nothing but her bravery, wit and instinct – and an awful lot of running. Jenny – The Doctor's Daughter is out now.
1.1 Stolen Goods by Matt Fitton
Jenny is new to the universe and keen to explore – but in unfamiliar spaceships, accidents happen. She's lucky to have someone on-hand to help. A slippery, fast-talking someone, called Garundel.
Soon, Jenny is mixed up in cons and explosions. But she also finds something strange, inexplicable, and as new to universe as she is. She'll call him Noah.
1.2 Prisoner of the Ood by John Dorney
Moving into Leafield Crescent, Angie Glazebrook is surprised by an unexpected caller. But not half as surprised as Jenny, suddenly transported to a suburban close on twenty-first century Earth.
And that's nothing to the surprise of the neighbours when alien visitors start appearing. Visitors with tentacled mouths, carrying death-dealing orbs. The Ood have come for their prisoner…
1.3 Neon Reign by Christian Brassington
The Dragon Lord rules Kamshassa with fear. Half the oppressed population live in an addicted stupor, while the other half are forced into service. Factories belch poisonous smoke, and Dragon Guards patrol the streets, condemning dissenters to the Eternal Fire.
When Jenny and Noah arrive, it's only a matter of time before they start a revolution.
1.4 Zero Space by Adrian Poynton
Out in deep space, in the middle of – quite literally – nowhere, Jenny and Noah believe they've found a safe haven. And, very possibly, some answers. But the space station holds many secrets, and it won't be long before Jenny's past catches her up.
Bounty hunter COLT-5000 is on her trail and will stop at nothing to hunt down its quarry… even in Zero Space!
Georgia Tennant told last month's Vortex magazine all about bringing Jenny back for her own series: "I am terribly proud of Jenny, of the character we have all created. I feel like she is a woman girls and boys can look up to. She is next in a long line of brilliant female characters from the Whoniverse and I hope she will be around for a long time yet.
"I really did have the most wonderful time working with Big Finish making this show. I hope I get to do it until Jenny turns old and grey. And even a bit after that!" You can read more about Jenny with exclusive interviews with the cast and crew in May's Vortex.
Jenny – The Doctor's Daughter is available now at £23 on CD or £20 on download from Big Finish.
Or you can get Jenny – The Doctor's Daughter in a bundle with Lady Christina at £46 on CD or £40 on download. More information on the cast of Jenny can be found here -> https://www.bigfinish.com/news/v/jenny-the-doctor-s-daughter
Make sure you let us know what you think of this new series from Big Finish on Facebook, Twitter and Instagram.