For The Love Of StoriesBig Finish produce fantastic full-cast audio dramas for CD and download.
Jenny - The Doctor's Daughter
16 April 2018
The trailer for Jenny - The Doctor's Daughter, coming out in June this year, is available now. And you can find out more on the cast of this big adventure; what new friends Jenny will make and what adversaries she will have to overcome.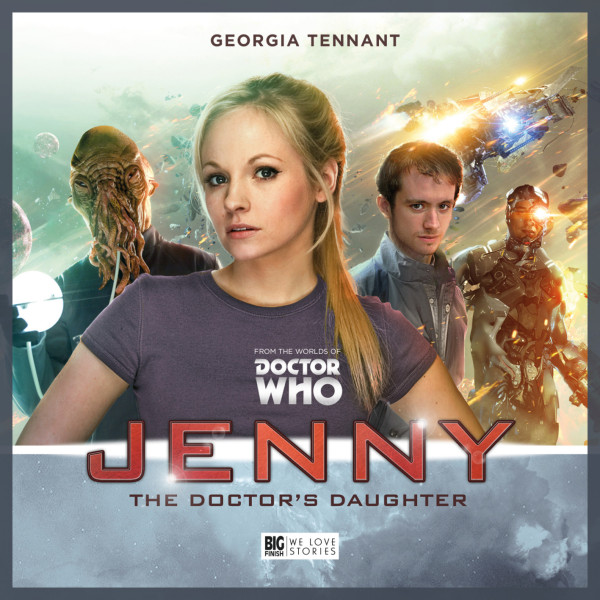 She's ready to save planets, fight monsters, and save the day using nothing but her bravery, wit and instinct – and an awful lot of running. The trailer for Jenny – The Doctor's Daughter, starring Georgia Tennant as Jenny and Sean Biggerstaff as Noah, her companion is available here:
Director Barnaby Edwards tells us more about the cast for Jenny – The Doctor's Daughter: "It is not a coincidence that the main protagonist (aside from Jenny) in each story is female. I purposely cast it that way, in order to pit our heroine against villains of her own gender. Rather than just inserting Jenny into the well-known Doctor Who world, I wanted to place her in a more interesting – and largely female – universe."
As Jenny and Noah traverse throughout time and space, in their first adventure, Stolen Goods, they'll encounter Garundel played by Stuart Milligan (who also appears in Doctor Who Main Range release Starlight Robbery).
Along with the debut of the Ood at Big Finish, in the second story Jenny will encounter some inhabitants from a little planet called Earth… Angie in this production is played by Arabella Weir (who Big Finish listeners will know from Unbound release Exile, where she stars as a female Doctor).
The third episode Neon Reign contains a name familiar to fans of Doctor Who, as Pik-Sen Lim (from the Third Doctor television episode The Mind of Evil) plays Dong-Ra.
And in the final adventure, Zero Space, two scientific twins are played by Adèle Anderson from cabaret trio Fascinating Aida, and Anthony Calf who starred in Doctor Who TV episodes The Visitation and last year's The Empress of Mars.
But Jenny and Noah had better be on their toes as they will also be pursued throughout time and space by the cyborg COLT-5000, played by legendary actress Siân Phillips.
Jenny – The Doctor's Daughter is available for pre-order prior at £23 on CD or £20 on download from Big Finish and will remain at this price until its release in June 2018 when it will be available for £35 on CD or £30 on download.
You can also get Jenny – The Doctor's Daughter in a bundle with Lady Christina at £46 on CD or £40 on download.