Lady Christina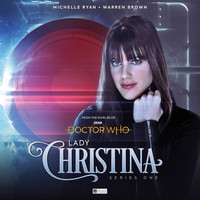 Released August


Prices
CD
US $30.24
Download
US $20.00

Web Special Price!


Synopsis
'One of the most entertaining releases from Big Finish this year! Michelle Ryan is just excellent once more as Christina with strong scripts that the young actor appears to devour. She's helped along by some fantastic direction from Helen Goldwyn... Hopefully this set will prove as popular as it deserves so we can hear much more from Michelle Ryan as the mysterious, enigmatic and wholly brilliant Lady Christina' Blogtor Who
'Michelle Ryan and the supporting performers give stellar performances throughout to complement the strong pacing and excellent sound design that combine to create a thoroughly entertaining debut that has firmly set the groundwork for a potentially long-lasting and rewarding series.' DoctorWhoReviews
This title was released in August 2018. It will be exclusively available to buy from the BF website until October 31st 2018, and on general sale after this date
Jetsetter, adventurer, and owner of a very unusual London bus, Lady Christina de Souza likes the finest things. Even if they don't belong to her. And the more exotic – or alien – the better.
But Christina's activities have caught the attention of UNIT, and now Sam Bishop is on her trail...
1. It Takes a Thief by John Dorney
The French Riviera has always provided rich pickings for the aristocratic cat-burglar. Lady Christina is enjoying the high life while adding to her collection.
But when suspicion falls on her after a robbery-turned-murder, Christina decides to catch the culprit herself...
2. Skin Deep by James Goss
Sylvia Noble always knew she deserved better. So, when a chance encounter with aristocracy propels her out of Chiswick and into high society, she's delighted.
But the beautiful people have their own agenda – and Christina is surprised when those plans involve her father.
3. Portrait of a Lady by Tim Dawson
When her plot to steal a priceless painting runs into trouble, Christina crashes into an undercover UNIT operation – and Sam Bishop.
Soon, her Number 200 bus is racing from Europe to South America and into the depths of the Pacific, chasing a mysterious and unstoppable foe…
4. Death on the Mile by Donald McLeary
Lady Christina has been offered a job: the heist of a lifetime. She simply has to break into Edinburgh Castle.
At the same time, UNIT are investigating alien activity at the Military Tattoo. And where there's treasure and treachery, there are also Slitheen…
Written By: John Dorney, James Goss, Tim Dawson, Donald McLeary
Directed By: Helen Goldwyn
Cast
Michelle Ryan (Lady Christina de Souza), Jacqueline King (Sylvia Noble), Warren Brown (Sam Bishop), Matt Barber (Ivo Fraser-Cannon), Cristina Barreiro (Flavia Santos), Holly Jackson Walters (Carla / Maud Hunter), William Gaminara (Lord Alfred de Souza), Suzy Bloom (Tamarind / Amber), Rebecca Yeo (Malia), Gareth Corke (Leon Clancy / Policeman / Taxi driver), Emily Carewe (Lucy Clancy / Perfection), Matthew Brenher (Mr Kamen / Conceirge), Christopher Ryan (Grunt / Handley), Jenny Lee (The Keeper), Tracy Wiles (Jacqui McGee), Melissa Collier (Elaine / Janice), Richard Hansell (Robin), Ewan Bailey (Sir Edward Scott Cameron / Biggs). Other parts played by members of the cast.
Producer David Richardson
Script Editor Matt Fitton
Executive Producers Jason Haigh-Ellery and Nicholas Briggs